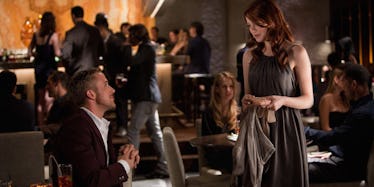 What Happened When I Tried To Find Love With 4 Rom-Com Pickup Lines
Warner Bros. Pictures
They say art imitates life and its reflection of our times.
They say art, in its many forms, can comment on political ongoings, world news and raw emotions of the heart.
Sometimes, that's true.
When we take in the many elements of a performance, it can have this profound impact on the way we view the world or understand ourselves.
Other times, it's just utter bullsh*t.
Don't believe me? Turn on Hulu for the final episode of season three of "The Mindy Project."
Then, get back to me if you've ever had a guy take the downtown 6 train three stops — much less fly to India — to meet your parents.
Unfortunately, women (and men) are conditioned to believe these outrageous, grandiose gestures exist in the same dimension as Tinder does.
There are good guys out there, but they are the exception. And even the exception doesn't live up to the rom-com hype.
How do I know this?
I've been doing my research for years (literally). I've been borrowing scripted lines and seemingly perfect dates from TV and the silver screen, and inserting them into my own life to compare their success.
These are real guys I've dated, real things I've said and real repercussions I've suffered (all for the sake of journalism):
1. "Step Up"
What happened on screen:
Young Channing Tatum and now-wife Jenna Dewan are portrayed star-crossed lovers from different worlds.
Luckily, Tatum skirted juvie, belted his saggy pants and got into Dewan's fancy dance school. The two of them ended up sashaying their way to love and near fame.
What happened in real life:
I lived in an upper-middle-class, suburban community in Ohio, so finding a high school delinquent proved to be a little difficult.
Instead, I convinced my high school sweetheart to take salsa dance classes every Sunday night with me. In turn, he dumped me after a funeral and took my (former) friend to prom.
The silver lining:
He's been married for a few years now to a different girl, making me just a bump on his roadmap to love.
So, you're welcome?
2. "How To Lose A Guy In 10 Days"
What happened on screen:
Andie Anderson (Kate Hudson) works at the fictionalized version of Cosmopolitan magazine, and she somehow finds herself writing an article on all the "don'ts" women should avoid in relationships.
Her latest victim? Enter handsome Ben Barry (Matthew McConaughey).
Andie uses a New York Knicks playoffs basketball game to solidify her spot as the quintessential "cool girl" before purposefully flipping the switch and crushing her assignment like a real career woman, all at the expense of poor Ben's feelings.
What happened in real life:
I met a guy through mutual friends. He seemed totally normal, mostly responsible and definitely attractive.
So, when I was gifted two Knicks vs. Bobcats tickets, I also cleverly convinced that hot little Wall Streeter to come with me. (Read: I texted him, "Wanna go to a Knicks Game? It's free!")
We stayed in our happy little relationship purgatory for several months until he forgot to break up with me, which cemented his title as "douchebag with a heart of gold."
The silver lining
We're actually still friends (until he reads this).
3. "Crazy, Stupid Love"
What happened on screen:
We all know the scene: A bewildered, slightly awkward (but definitely hot) Emma Stone asks a shirtless Ryan Gosling if he's Photoshopped because his body is pure perfection.
What happened in real life:
A bewildered, slightly awkward (but definitely less hot than Emma Stone) girl asked a guy if he was Photoshopped when she saw his abs of pure perfection after a date.
He then called her out because he had seen the movie.
(Spoiler: The girl might be me.)
The silver lining:
I'm still looking for it.
4. "New Girl"
What happened on screen:
On this year's Valentine's Day episode, Coach runs into a girl named Faye several times during a bar crawl for the self-medicated and emotionally stunted singles of LA.
When he asks for Faye's number, she whips out her feminism badge and instead writes down her email, instructing him to compose a virtual letter with perfect spelling and impeccable grammar before she agrees to go out with him.
At the end of the season, they've moved to New York City together and are totally in love.
What happened in real life:
I went out with some girlfriends in Manhattan around Valentine's Day (literally two days after watching that episode of "New Girl"), and I ended up hitting it off with a guy who we'll refer to as Billy Goat. (You'd be shocked at how similar that is to his actual name.)
He asked for my number, and I instead gave him my email, saying I'd go out with him if he wrote me an email filled with perfect spelling and impeccable grammar.
Then, I went home. Two emails and six months later, I realized that, despite his schmoozing, he is more than likely a total sociopath.
(I should've known, with a name like Billy Goat and an occupation like certified public accountant.)
The silver lining:
My friend (whose name is definitely not Kelly) bought three beers on his tab that first night without his knowledge.
The two of us drank all three beers, and I then made him buy us two more.
Life can't be scripted. There are few wrong ways to navigate relationships, but stealing the words out of someone else's mouth is a surefire way to kill a relationship before it can even begin.
Maybe it's the time we live in.
We're consumed by a need for instant gratification.
We want love, and we want it now. We want grand gestures, jewelry and wining and dining, but that doesn't actually happen in two hours' time.
We try to rush the timeline a meaningful relationship truly needs by comparing thee to a summer's day, over and over again.
We need to stop living with our heads in the clouds, praying for a romance like the one in "The Notebook" because that's simply unrealistic.
Instead, let's write our own stories.
Let's have a love affair with the world we live in, with the people we are and with those fascinating people we surround ourselves with.
When we stop comparing our lives to a summer blockbuster and focus on just being authentic, all the pieces will fall into place.
We will then be able to avoid some terribly embarrassing situations.