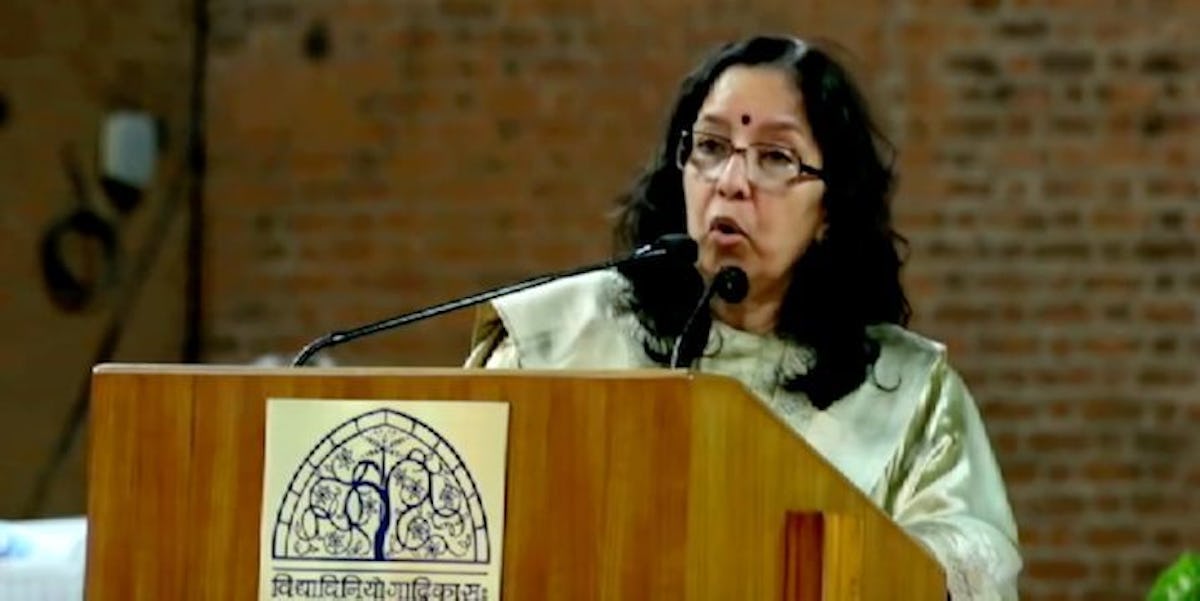 Finding The Perfect BF Is Like The Workplace, According To CEO's Accurate AF Speech
YouTube
Anyone who has ever attended a graduation ceremony knows, more often than not, the guest speaker bores you to death.
Unless you have an A-List celebrity, like Ellen DeGeneres or Charlie Day, equipped with a plethora of jokes to distract you from the fact that you're about to become a real adult, you should expect a total snooze-fest.
Well, the graduating class from the Indian Institute of Management, Ahmedabad (IIM-A) may have expected a mundane business speech from renowned Axis Bank CEO, Shikha Sharma, but instead, they were handed some atypical advice regarding, well, their love lives:
When speaking at her alma mater, Sharma dove through a series of points to help the graduates end up on their best path.
One particular point, which Sharma deemed "the single most important choice in life," was finding the best possible spouse and how it correlates with a successful career.
"When you're looking for a partner, look beyond their looks, their success, their style," Sharma said. "The strength and durability of your relationship is not going to come from you partner's personality. It is going to come from their character."
She proceeded to explain how your work life and your romantic life are on the same playing field.
They both require "lasting relationships" with a whole lot of team effort. Plus, you really need to dig deep and look for positive attributes that aren't seen at first glance, but will suit you in the long run, both in a company or in a spouse.
"The money, the fancy title, the foosball table in the break room — they're all very exciting. But in most cases, that's not what makes for a fulfilling career. You would want to join an organization whose values match yours," Sharma said.
Sharma goes on to discuss her own husband Sanjaya, who is also an IIM-A alumni, and how he has influenced her career path.
Sharma said,
The choice of a life partner is the single most important choice you'll make in your life. Much of the joy you derive in your life does hark back to who you choose to share this journey with. A lot of what I am today are a function of the life partner I was lucky to have alongside my journey. Sanjay and I, both alumni of IIM-A, are very different people. But we are not all that different either. We have very similar core values.
She chalks up aspects of her great success as "a function of the partner I was lucky to have alongside my journey," crediting the love and support from Sanjaya as a reason for how she's gotten to the point in her life today.
I think Sharma really hits the nail on the head with this advice. We should always look deeper than the surface when it comes to life's most important decisions.
And her advice sure beats the speech a meteorologist gave to my graduating class!
Citations: This banker's relationship advice to grad school students is worth hearing (Mashable), Axis Bank CEO Turns Love Guru, Tells IIM-Ahmedabad Students To Wisely Choose A Life Partner (India Times)