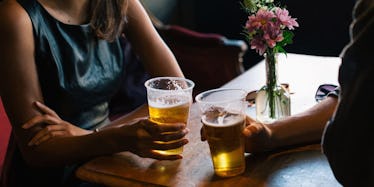 How To Hold In Your Farts In Front Of A Date, According To 15 Men
Nobody wants to fart in front of someone they're hoping to ever have sex with.
I mean, I LOVE farting, along with any and all fart-related jokes, just as much as (OK, fine... probably way, way more than) the next girl, but there are no two ways about it: Farting is not sexy.
So what are we mere mortals to do?!
I mean, let's say your date takes you out for a romantic, insanely-delicious Italian dinner date. You're drinking wine, you're having cheese, you're gazing at him across the table as the candlelight in the dimly-lit restaurant highlights his perfectly-chiseled jawline and BOOM, it hits you: You have absolutely got to fart.
If we're being realistic here, odds are, so does he.
But now, both of you are in a little bit of a pickle.
Do you let it rip and run the risk of never going on a date with this person again, OR do you suck it in with all your might and pray the resulting stomachache doesn't kill you? It seems like a lose-lose situation to the untrained eye.
But what if I were to tell you there was a third option? What if there was another way to go about this predicament that didn't involve you 1) not getting laid or 2) breaking down in tears because you're literally in so much pain?
Well, lucky for you (and also for me), these 15 guys responded to a recent Reddit thread with their handiest tips to avoid the stomach pain from date-night farts.
Read along, and TOOT FREELY.
This guy times his toots to perfection...
This guy does some yoga...
This guy shoves a tampon up his butthole (Yes, you read that correctly.)...
This guy relies on a trusty combo of probiotics and clenched butt cheeks...
This guy cut out carbs...
This guy uses chivalry in his favor...
This guy cut out dairy...
This guy uses Gas-X...
This guy is prepared for any situation...
This guy doesn't eat cheese before dates...
This guy does some handy pre-date stretches...
This guy pulls a Shaggy and swears it wasn't him...
This guy is risking his life for the freedom to fart...
This guy keeps his eyes on the prize...
And finally, this guy just cuts through the bullshit...