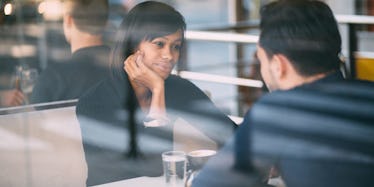 Science Says People Still Prefer IRL Interactions Over Social Media
If you guys thought you weren't meeting people because you spend too much time on social media, you're not necessarily correct.
A new study published in the journal New Media & Society found that people separate social media interaction from face-to-face interaction.
Jeffrey Hall, associate professor of communication studies at the University of Kansas, says that when people use social media, they're more "people-watching" than anything else. And "liking" a photo or a video is like giving someone a head nod. He says,
Keeping tabs on other people sharing our social spaces is normal and part of what it means to be human.
In the study, Hall fleshes out three studies that prove his theory.
The first study shows that when we use social media, we don't really use it to interact. Rather, we behave passively, meaning we simply read news and skim through other people's profiles. It also showed that we only spend about 3.5 percent of our time sending messages on social media, which means we're basically stalking people for 96.5 percent of the time. Yep.
The second study shows that we still consider real interaction to happen face-to-face, and when we interact with people in our close social circles over social media, we do so by sending direct messages.
The final study had people contact participants randomly throughout the day through the medium of their choosing. The result was 98 percent of the participants' interactions with people weren't over social media, but through other forms of communication.
"People feel a sense of relatedness when they're interacting face-to-face," Hall points out. "But using social media does not make them feel connected."
People feel a sense of relatedness when they're interacting face to face.
Hall's words are comforting because there's a lot of freak-out in the public sphere about how social media may be replacing IRL conversation.
So, what's the takeaway? When it comes to dating, it's clear that Instagram isn't replacing IRL moments. So yes, you can still meet a great guy on your morning commute to work or hit it off with a friend's buddy at a party--so don't feel obligated to answer that guy who slipped into your DMs.