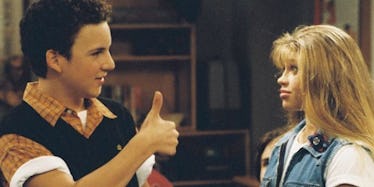 What Even The Shortest Of Relationships Can Teach You About Moving On
Disney–ABC Domestic Television
I love to give relationship advice to my friends. I feel like I can provide a great perspective.
Sure, I've only ever been in a week-long, high school relationship. Some would say that's not enough experience in order to actually help.
But that one relationship has taught me a lot. Now, I feel like I have a wealth of knowledge.
I've been through the crush stage. We brought it to full-fledged relationship stage. Then, we ended things a week later because I realized it just wasn't working out.
So, here I am. I'm a relationship guru, and I'm ready to give you my best pieces of advice.
During my senior year of college, my friend broke up with her boyfriend. She had been with him for over three years. They met during freshman year and were immediately an item.
He was her first real boyfriend. So, when I got the text that they had broken up, I knew exactly what to do: I ran to the nearest bodega and grabbed some cookie dough and ice cream.
I picked out all the romantic comedies I believed we should watch. I set up a blanket fort in our dorm room, and got the latest Taylor Swift album ready for us in order to scream-sing to. I was prepared.
I sat in our dorm with strong margaritas, ready for her to come home. When she did, she immediately packed a bag and told me she was going to New Jersey for the weekend.
She had already moved on. She wasn't going to mourn the loss of her relationship with me, even though I had prepared so well.
I never got to give her my breakup advice. She moved on so quickly that I didn't have time. But don't worry: I have kept that advice with me all these years, and I'm ready to gift you all with my wisdom.
Here are my five pieces of advice for moving on when you're going through a breakup:
1. Give yourself some time to be sad.
My friend made the mistake of not enjoying that girls' night with me. I drank those margaritas, made myself an ice cream cookie sundae, listened to Taylor Swift and watched "You've Got Mail" in a blanket fort. I didn't necessarily need this, but it was cleansing for my soul.
Emotions are meant to be felt. I say that after a breakup, take the time to feel sad and use it as an excuse to really just do the things you love. We all want to eat our feelings, and you finally have that excuse: Use it.
I know that when I broke up with my high school boyfriend of one week, I took the time to be sad and made a mix CD.
I labeled it "Boys Who Broke My Heart," and filled it with songs that reminded me of him. It was a fun experience. I still listen to that CD sometimes.
2. Moving on means no more communication.
Don't try to talk it out. You broke up for a reason. Give it some time before you speak to one another (if you ever do).
If you reach out too soon, you could just fall into the vicious cycle of getting back together and breaking up again. Or, you'll just end up making things worse for the two of you.
It's best to give yourselves distance. The time will help you.
It's like this: When you're overwhelmed, you need to take a breath and count to 10. By cutting communication, you're taking that breath and counting to 10.
I know that when I broke up with my high school boyfriend, I made the mistake of chatting with him on AOL Instant Messenger too quickly. It made the breakup messier than it needed to be, and it dragged the whole thing on.
I didn't want to get back together, but I was sending mixed signals to him by chatting to him again. Just don't message him after you break up with him.
3. Hang out with friends.
You need a support system: something to distract you and remind you that you can still have fun. When you're in a relationship, you start to rely on that person, in order to do things with him or her. But you forget that's what friends are for as well.
Need someone to go to a movie with? A friend can do that. Need someone to try out a new restaurant with? A friend can do that. Need someone to just talk to about your day with? A friend can definitely do that.
You friends are there for you before your relationship begins, and they will last long after it has ended. When I broke up with my high school boyfriend, I turned to my friends.
Sure, the relationship had only lasted a week. But it's always good to remember that your friends are there for you.
4. Focus on a hobby.
Now is the time to focus on something else. You'll have more time to actually do things. You're not making someone else a priority: You're the priority now.
Take all this extra time to focus on a hobby or activity. Who knows? It could be something really active, and you could get really fit.
When I broke up with my boyfriend of one week in high school, I put more time and effort into the drama club. I auditioned for the school musical and only got a tiny part. But I still got a part.
It all turned out great in the end because now I spend thousands of dollars a year on improvisational classes and shows. I love it.
5. Remember: There are plenty of fish in the sea.
It's cliched, but it's true: There are millions of other people out there. You'll meet someone else in no time.
Sure, this was the one guy who actually said he liked you. You kind of liked him back. You guys dated for a week, but then, you just didn't think it was going to work out.
So, you broke up with him seven days later. Sure, maybe you could have stuck it out a little longer, but you know there are other guys out there. Just wait. Someone else will come along.
It's not like you'll have had this one relationship in your life and nothing else. Something will definitely come along.
So, there you have it: my best pieces of advice for anyone going through a breakup. You can definitely trust me. I know what I'm talking about.