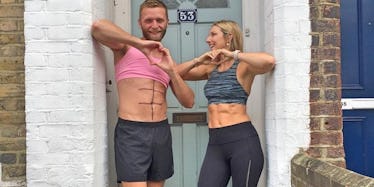 This Guy Hilariously Recreates His Girlfriend's Instagram Posts And It'll Crack You Up
Instagram/@Welness_Ed
In case you missed it, Instagram boyfriends are having a moment right now. First, there were the JAY-Z types casually standing outside of the spotlight while they snapped a pic of their baes. Next, there were guys like Gabriel Martinez Rivera who went above and beyond (think: literally hanging off the side of a giant boat) to get his girl the PERFECT Instagram shot.
And now, we have this guy named Edward Lane. Edward Lane recreated his girlfriend's Instagram posts in a hilarious parody account he made solely to have some fun with her.
Here's a picture of the happy couple on Edward's account:
Edward is a journalist at Men's Health UK. His girlfriend, Amy Hopkins, is the digital editor at Women's Health UK, and she sort of kills it on Instagram. Her fitness account, @Wellness_Ed, has more than 27,000 followers, and her bio reads,
I can't dance but I can burpee. Digital Ed @WomensHealthUK, Gym Instructor, @LululemonUk Ambassador /girl boss 'The Wellness Mindset' talks.
In response to Amy's account, Edward made one called @Wellness_Ted with the following bio:
Preaching wellness one self-important #wellfie at a time, Unqualified PT, Knowledge-free Nutritionist, Public Figure, London, UK.
His parody account has already reached more than 14,000 followers, and the posts are freaking hilarious.
Here's a sexy side-by-side pool shot.
Here's a #fitspo DIY fitness shot.
Here are some inspiring AF booty shots.
Here's a super zen meditating post with a nice replacement for candles: beer.
Here's a pic of him doing yoga that we can allllll relate to.
Here's a side-by-side sexy ab pic with some hot fitness tips in the caption!
Here's a cute, little filtered pic of him cooking up some healthy recipes.
Here's him giving you some nutritious meal prep inspo.
"Literally hundreds of people were double-tapping a picture of my girlfriend eating salad – it made absolutely no sense to me," explained Edward in an interview with Mashable. "But most of all it cracked me up."
So, naturally, he had to make a freaking hilarious Instagram account gently making fun of her. If that's not love, what is?
Check out the "Best of Elite Daily" stream in the Bustle App for more stories just like this!