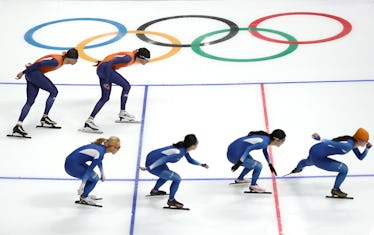 Here's The Truth About Athletes Using Dating Apps In The Olympic Village
Ronald Martinez/Getty Images Sport/Getty Images
Athletes are many things: ambitious, driven, determined, focused, methodic, hard-working, and attractive. So. Insanely. Attractive. Seriously, how is it that every athlete seems to have the most beautiful face and irresistible swagger to go along with it? Having a casual fling with an athlete is likely an obvious dream for many, so with the 2018 PyeongChang Winter Olympics fast approaching, I ask the burning question: Do athletes use dating apps in the Olympic Village?
The answer? Yes, big time. Dating app usage first started spiking in 2014, during the Sochi games, according to The Independent. Apparently, Olympic organizers had cracked down pretty hard with strict social media guidelines in the 2012 Summer Games in London, so it was game way on once they loosened the digital rules in 2014.
By the 2016 Rio Summer Games, the Olympic Village was banging — literally. The area that housed the Village, home to 18,000 athletes, coaches, and officials, saw a 64 percent increase in daily active dating app users during the games, according to DailyMail.com. What's even more impressive? Matches made on apps surged by 129 percent over the course of move-in weekend alone. I would venture to guess that, if you were anywhere near the Village, the chances of swiping on an Olympian were astronomical.
Paper Magazine offered a look at some of the notable Olympic talent on Tinder that year, including American swimmer Ryan Lochte and British gymnast Louis Smith. I'd swipe right hard on either of those two, TBH.
There's no doubt the 2018 games will include a surge in swiping as well. Here's what else to know about what goes down during the Olympics in terms of all things ~love~ and ~sexy time~.
It Sounds Like Athletes Need Some Form Of Stress Release
DailyMail.com described the 2016 Rio Olympic Village as having "a large recreation area offering video games, music, table tennis and billiards, plus a post office, [and] general store." While that sounds entertaining, these guys and gals are under major stress. The literal whole world is watching and judging them on their performance, so it's understandable that a match of table tennis might not cut it when they're looking to blow off some steam. Enter: dating apps and potential flings to get their mind off things.
There Are A Lot Of Condoms Available In The Village
According to The Independent, 450,000 condoms were made available for athletes during the Rio 2016 games, more than three times as many as in the London 2012 games. I'm only average at math, but that many condoms for 18,000 people seems like a lot of sex. Amen.
Even more, at this year's PyeongChang Olympics, 110,000 condoms will reportedly be provided for the almost 3,000 athletes in attendance, which is more than any number of condoms provided during a Winter Olympic Games.
Coaches Try To Lay Down The Laws Of Getting Laid
OK, so Olympians deserve to be able to let off some steam, but is the job of coaches to make sure the world's best athletes stay focused, which means trying to limit late-night activities. According to ESPN, during the 2016 Rio Games, some coaches opted for 11 p.m. curfews (well, noise curfews) and said a hard no to alcohol. USA Swimming coaches even banned men and women visiting each other in bedrooms.
Finding A Spot To Hook Up Isn't Too Hard, Though
The Rio Olympic village was big: DailyMail.com reported that there were "3,604 apartments in 31 separate 17-story accommodation blocks," not to mention the other fun add-ons, including football fields, tennis courts, and pools. That being said, it's certain people found some tucked away places to hook up. Olympian Hope Solo even told ESPN she had seen athletes doing the deed "out in the open" and "on the grass." And naturally, the PyeongChang Olympic Village is sure to have some dark corners to meet up with sexy matches.
Erin Jackson is an inline skating world medalist and roller derby MVP. She dreamed of skating in the Olympics, but to do that, she had to get on ice. She took her first steps on a long-track course in 2016 and started training professionally in September 2017. Four months later, she qualified for the Olympic Winter Games. Check out Elite Daily Insights' video on Jackson's incredible story: