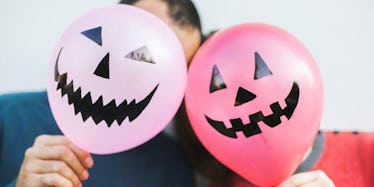 8 Cute Couples' Costume Ideas For The Couple Who's Freaking Adorable
Jovana Rikalo/Stocky
For those couples who don't mind getting their hands dirty, spending Halloween drenched in a pint of fake blood and gory costume makeup is a walk in the park. My super glam couples feel at home in tons of glitter and eyeliner. But what about those cute little couples who aren't into all the blood and gore or loud razzle-dazzle? Don't they deserve some craze-worthy cute couples costume ideas to steal the show? An adorable couples costume that doesn't involve nursery rhyme characters?  (Although if Little Bo Peep and her sheep sound like the perfect couples costume to you, then by all means — treat yourself.)
But whatever you do, do not wait until the last minute. Whether you are in the market for something involving minimal effort or something elaborate full of impressive detail, give yourself plenty of time to pull it together.
If you and your partner are after something cute and playful but not too silly or dated, then don't miss out on one of these unique ideas that are sure to make you both stand out in the crowd. When executed well, any one of these ideas could very well earn you the award for cutest couples costume of the night. The hardest part will be choosing just one of them.
1. Eliza And Darwin From The Wild Thornberrys
If you can show me someone who didn't absolutely love this '90s kid show, then I can show you someone who has some pretty questionable taste in cartoons, because The Wild Thornberrys was juicy with a capital-J. The best part about this couples costume is, it's pretty to easy to put together. Whoever's playing Eliza just needs some brown oxfords or hiking boots, binoculars, a red turtleneck, and a yellow dress or dress-length shirt. Pop your hair into two braided pigtails or a wig, and you're good to go. All Darwin needs are some blue shorts, a blue and white striped tank, and a monkey mask.
2. Winnie The Pooh And Christopher Robin
Awwww, remember Pooh bear? And that poor kid Christopher Robin who had no human friends to speak of? Well, here's your chance to pay homage to these lovable relics from the past. Assuming you're not going bottomless like the original honey lovin' Pooh, an orange bodycon dress or jumpsuit paired with a red crop top should do the trick. Don't forget to gussy it up a bit with some bear accents using face paint or a bear hat. Christopher can throw on some blue shorts, a white polo shirt, and yellow t-shirt. High white socks and black sneakers are easy details to add to the overall look.
3. An Old Couple
Warning: This costume may actually end up being too cute... if that's even possible. Head on down to your local thrift store and grab a couple argyle sweaters, a polo for grandpa and a long skirt for grandma, and half the war is won. You'll also need some white hair spray or wigs and some makeup, and then it's party time. If one of you can get your hands on a cane, then this is sure to be a Halloween costume for the books.
4. Merpeople
Becuase humans with iridescent scaley tales the can breathe underwater are sorta cute... in a way. Like I said, Halloween is the perfect time to indulge your wildest fantasies. Plus, if you can hobble around on a flipper all night, then you are truly a hero to us all. For those of you who would like to go the more symbolic route, there are tons of mermaid style dresses that give you the look without the mobility issue. For guys, you may have to get a bit more creative, but you can check out this how-to for some inspiration. Oh, and don't forget your trident.
5. Cruella De Vil And A Dalmation
OK, OK, I know this costume tutorial is intended for children, but we're all kids at heart, right? This is such a cute costume idea, I can't help but squeal. Dressing in all white for the Dalmatian means the key to pulling this off is some solid puppy makeup (see tutorial). For Cruella, the two-toned hair is a must, as well as either a faux fur coat — if you want to bouge things up — or a simple black and white feather boa for something a bit more basic.
6. Don And Betty Draper
Although anyone who watched the show knows that things definitely took a dark turn, these two started things off pretty cute. Any vintage or '60s inspired dress for Betty will do — a blond wig and string of pearls are the perfect accent pieces. Not feeling a wig? No worries — you can browse some '60s hairstyles and find one that strikes your fancy. Sexy Don just needs a suit (preferably grey), paired with a classic tie and slicked down hair.
7. The Tooth Fairy And A Tooth
Looking for the perfect costume that's equal parts sugar and spice? How about dressing up as a fairy and having your boo thang be the tooth? The one thing that really gets me worked up is the idea of spending a ton of money on costume elements I'm probably never going to wear again. Going as a fairy presents the perfect opportunity for you to indulge in a whimsical new dress that you can actually wear again. And the tooth has the option of abstracting things and just wearing all white or going for the gold and indulging in a tooth suit.
8. Ash And Pikachu
Spending All Hallows' Eve as two of the most adorable characters from your childhood most definitely sounds like a good idea. This throwback is guaranteed to be a real crowd pleaser. Whichever one of you gets the honor of being the yellow ball of light known as Pikachu can go the artsy abstract route — think a yellow dress with ears and makeup — or donning a suit. Luckily, there are a bunch of Halloween ready Ash costumes floating around the web, so getting the details down (i.e., his hat and gloves) shouldn't be a problem.
Check out the entire Gen Why series and other videos on Facebook and the Bustle app across Apple TV, Roku, and Amazon Fire TV.