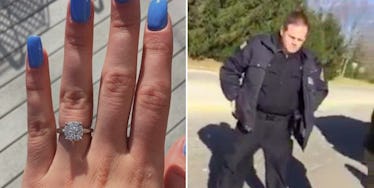 Cops Pretend To Pull Couple Over To Help With Marriage Proposal In Adorable Video
Facebook
Sometimes, when I'm alone at night, I'll jump on YouTube and fall into a three-hour binge fest of rejected marriage proposals, proposals gone wrong, creative AF proposals and soldiers coming home to their dogs.
(I know, that last one doesn't really fit the theme. I just can't help myself.)
And this adorable, if not mildly strange, surprise proposal is DEFINITELY being added to the backlog.
Matt Glover of Richmond, Virginia, and his girlfriend, Savannah Rueda, were out for a drive when they were randomly pulled over by the police, according to RTV6. But the couple was in for a surprise.
In the video, Glover is pulled over by a police officer who (ultimately fortunately for Rueda) had been expecting them.
After pulling them over, the officer casually says to Glover, "You understand it's 30 [mph] down through there? Had you at about 42. No big deal." No big deal. Very slick.
But then, the officer starts saying that Grover's license plate is coming up as stolen in his system, and that's where the big lie starts to be revealed.
The officer asked both Glover and Rueda to get out of the car. Poor girl. You can tell she is being as cooperative as possible, saying, "Yes, absolutely. Absolutely," when she is asked to step out of the car.
And THAT'S WHEN SHIT GETS CRAZY.
Now, I've watched a lot of "Law & Order," and from my YEARS of experience and expertise, I can tell you that it's bad news when they make you get out of the car. If I were her, I'd be shaking in my boots.
But, you guys, you and I both know what Grover's up to.
He drops down to one knee, and the surprise is revealed! He asks her to marry him while the officer films the entire thing. AW.
While she does give a big "YES," Rueda adds the ever-romantic commentary, "You're a stinker. You're a butt." Rueda posted a video of the ring itself on Facebook shortly afterward.
Grover says it was "by far the best moment of my life."
He said to RTV6,
Savannah and I have a really fun relationship. We are always teasing and pranking each other. This just seemed like a great way to propose, and I knew she would be surprised doing it this way. With the help of the Richmond Police Department, we now have a memory that will last forever.
Grover also shouts out the Richmond Police Department in his Facebook post, saying,
From the bottom of my heart, I would like to say thank you to the Richmond Police Department, family, and friends who made this possible! SHE SAID YES!!!! Savannah Rain Rueda
The post has been viewed nearly 20,000 times.
Here's hoping the next time I'm pulled over, I'll get a fiancé out of it too!
Citations: Richmond police help with surprise marriage proposal (RTV6)