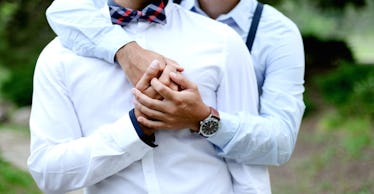 Confessions Of A Gay Man Looking For Love In The Hook-Up Generation
New York City is a place where as a gay man, you can get a blowjob almost as easy as you can get a cheese Danish at your local bodega.
With the invention of apps such as Grindr, Scruff, Jack'd, Daddyhunt and a slew of others, we have systematically taken all effort — and may I say, romance — out of the art of the hookup.
Sex, like most Millennials, has been on my brain a lot lately. And when I say a lot, I pretty much mean every single day for the last 20 f*cking years.
Ever since I discovered masturbation at the the tender age of 11, things just haven't been the same.
Dear reader, allow me to inform you that not a single day goes by that I don't think about sex, have sex or at the very least, flip open the computer and watch someone else having sex.
So my question is this: Am I alone? Or are there other people who are just as horny, but just who aren't talking about it? And is there any hope for those of us with exceedingly high sex drives to find fulfillment in a monogamous relationship?
Doesn't it seem like we've skipped the guessing and gone right to the dirty?
Rather than being faced with the prospect of going home alone, we now just have sex delivered to us. Some nights, sex can even feel routine.
We order our Seamless entrees while cueing up our Netflix, and we simultaneously scroll through the teeming sea of headless torsos that flood the screen on Grindr. We make our selection on the basis of traits such as fuzzy versus smooth, four-pack versus six-pack and twink versus bear.
Regardless of what we write in our "profiles" — whether it's a laundry list of likes and dislikes or false proclamations we are really just looking for friends — we are all on hook-up sites for the same reason: sex.
What happens when you're a young, sexually active gay man living in a city full of other seemingly endless attractive gay men? Well simply put, sex is what happens. It's lots and lots of sex.
Sometimes it's with multiple partners, and sometimes it's twice a day. Sometimes it happens in the most unlikely of places. It can be sweaty, aggressive romps in cramped stairwells. It can be loud, passionate love-making in spacious lofts with stunning panoramic views. It can be quick, seedy one-offs in Midtown hotel rooms, where you avoid eye contact with the front desk lady at all costs.
(Let's get real: When you stroll in at 2:30 am on a Sunday and then re-emerge 20 minutes later looking a bit worse for the wear, chances are, she knows exactly what you've been up to).
And if you make the mistake of ever asking our dear desk lady how to get to room 708, she'll be sure to make a humiliating phone call to your nameless hookup, loudly announcing, "Yes, sir, your guest is here. Would you like me to send him up?" all the while staring at you dead in the eyes with one furrowed brow raised in judgment.
At any given time, all over gay New York City there are two people going at it like a pair of horny teenagers whose parents just left them alone for the weekend.
Sound outrageous? Don't believe me? Well, I'm telling you because who and what I just described is me. And it's not just me, but also people I know.
There are people who engage in this sort of primal and animalistic behavior on a regular basis. And you know why? Because as gay men, we f*cking can.
But is all of this sexual activity ruining the idea of traditional monogamy? Is it just so easy to get laid these days that the sole idea of only having sex with one person is no longer desirable?
They say that sex is like porn, and the more you watch it, the more you become desensitized to the same old same old. You start seeking out the taboo and the more extreme, just to feel that same thrill.
So, I worry the answer is yes -- it's too easy to get laid, and sticking to one person really is scary.
I can only speak from personal experience, but I know it only took about seven months into my last relationship for me to broach the topic of an open relationship over a casual burger and fries. I just wasn't feeling sexually satisfied f*cking the same person night after night.
If variety is the spice of life, then simply put, I wanted variety.
The conversation didn't go very well, which shouldn't have surprised me. And instead of agreeing upon being "open," we broke up.
Much has been written about the mating rituals of gay men, and what I've found is we seem to go through partners at an alarming rate. Yet, somehow, there are those few couples who seem to have figured it all figured out. They're the ones who've stayed together for years. They had kids, got married and built a life in the suburbs.
I'm not going to lie; there is something very attractive and appealing about that scenario. However, I can't help but worry I'm just not suited for it. As attractive and secure as that sounds, I wonder, will it ever be enough? When you go from having multiple sex partners in a week, can you suddenly be satisfied with just one?
Admittedly, I'm a bit of a romantic, so I'm hoping the answer is yes, and I just haven't found "the one" yet. It's so hard to believe in love with so much temptation around me.
However, a tiny piece of me is not ready to surrender the fantasy of the hunky husband, the white picket fence and the sex restraints discreetly tucked behind the headboard.
There must be someone out there for me. There must be someone passionate and practical, someone who can keep my attention. But until then, I've got my hookups on speed dial.