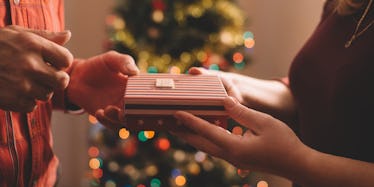 The Emotional Roller Coaster Of Christmas Gift Shopping For Your Boyfriend
You and your boyfriend basically have the best relationship ever.
He's great, you're great, everyone is GREAT.
Things have honestly been going so swimmingly, you didn't even realize it's almost December 25!
December 25, aka Christmas, aka the time for you to find one object that symbolizes all of the love you have for him.
THE PRESSURE IS FREAKING ON.
Cue the emotional roller coaster of Christmas shopping for your boyfriend.
Do you get him something expensive?! Wait, no... you've only been dating for three months... do you get him a gift card?! WHAT IS THE PROPER PROCEDURE HERE?
No matter what stage of your relationship you're in, finding your boyfriend the perfect gift is hard AF.
Here are 50 thoughts that go through our heads when we're shopping for Christmas gifts for our boyfriends:
1. Ugh, the time has come.
2. I have to do this.
3. Do I? Do I have to show him this PHYSICAL symbol of my love?
4. Is a hug enough?
5. A kiss?
6. OK, neither is enough.
7. I have to do this.
8. What theme am I going for?
9. Do I want to do something sentimental or hilarious? Maybe both?
10. Or practical! Practical is an option, too.
11. Is it possible to find something sentimental, hilarious AND practical?!
12. You know what? I don't care if it's possible, I'm GONNA MAKE IT HAPPEN.
13. I will buy him the best Christmas gift anyone has ever gotten for a boyfriend ever.
14. Omg, what if he cries?!
15. WHAT IF I get him a gift so wonderful he legit CRIES?!
16. Ugh, or what if he hates it?
17. WHAT if I get him a gift so awful he legit cries?!
18. This is a nightmare.
19. All right, I've gotta cool it.
20. Maybe before I start freaking out about how he's going to react, I should buy a gift.
21. BUT WHAT DO YOU BUY THE BEST MAN IN THE WORLD?
22. I wonder what he's getting me.
23. Yes! If I knew what he was getting me, I could plan my gift accordingly!
24. Ugh, in an ideal world, amirite?
25. Well, what does he love? (Besides me, duh.)
26. Fuck, I don't know!
27. Shoot, do I know nothing about the man I LOVE?
28. Am I a terrible girlfriend?!
29. OK, calming down again.
30. Ooooh... he loves concerts!
31. Great, I'll get him concert tickets.
32. Is that enough, though?
33. Should I get something else?
34. Yeah, probably.
35. Maybe concert tickets and something super sentimental.
36. Hmmm... what can I get that's super sentimental... ?
37. Sentimental is tough because I don't want it to be lame and overdone.
38. AND I don't want him looking pathetic and whipped.
39. I'm a COOL girlfriend who buys cool gifts, not lame gifts he has to hide when his friends come over.
40. OK, so how do I simultaneously be cool, original and sentimental?
41. Hmmm... I'm making life really hard for myself right now... oh well.
42. I know!! A hologram of us flirting the day we met! So cute and so DIFFERENT.
43. Only problem is, I don't have a billion dollars to get that made.
44. All right, moving on.
45. Maybe I'll just draw a picture of that day...
46. UGH, but I can't draw for shit.
47. Well, I'm already getting him the concert tickets, do I even need to do the sentimental gift?
48. OK, I've got it. What if I do the concert tickets WITH a really sentimental card?!
49. YES. GENIUS. I AM THE BEST GIRLFRIEND IN THE WORLD. GO ME. I ROCK.
50. Man, he is so lucky.