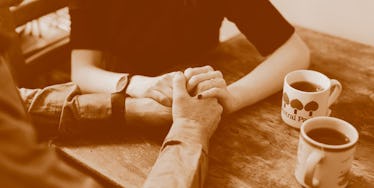 26 Cheap Date Ideas For When You're Trying To Pay Back Your Student Loans
Maybe you're a recent college graduate, and all of a sudden, your student loans have started up. Your parents are also a lot less inclined to send you a check if it's not your birthday. Maybe you're still searching for your dream job while waiting tables.
You're starting to ask for things like bath towels and cast iron pans for Christmas, just so that you don't have to buy them yourself. Worst of all, it's getting harder to rationalize spending $20 on a premium shot of tequila.
Whether you fit this description or not, I think it can be universally acknowledged that dating usually ends up being expensive. Never mind those times when you want to treat your partner to something, despite the desperate and indignant screams coming from your wallet.
Luckily, there's hope. I've found there are actually a number of cheap dates ($10 or less per person) that you can go on, regardless of the level you and your date are at.
Forget dinner and a movie. It's time to get creative:
For The First Date
When you're trying to get to know someone, it's important to go somewhere where you're actually able to talk, at least for a little while. I personally never go to dinner on a first date because I have no idea what might happen.
What if I realize in the first five minutes that my date likes Nickelback, but I have to wait for the food and check before I can leave? Yikes. Try one of these instead:
1. Grab coffee.
Go to a mom and pop coffee shop (not Starbucks), and sit down by the window with your date and a latte. Coffee is cheap, and it gives you the opportunity to talk to your date without loud music and distractions.
2. Go mini golfing.
Remember how fun this was as a kid? I assure you it's still fun now. Most mini golf places are affordable at under $10 per game. They also have arcades in case you really feel like getting nostalgic (or competitive).
3. Go to a dive bar.
I'm sure you're thinking alcohol is counter-intuitive, but depending on the establishment, a mixed drink, domestic beer or glass of wine doesn't have to cost much. This is especially true if you go during happy hour.
Many dive bars also have pool tables, darts or shuffleboards. You can play a game with your date.
4. Visit a bookstore (or music store, or video store, etc).
Depending on your cup of tea – I'm a book nerd, myself – find a specialty store and spend an evening perusing it with your date. It's completely free unless you end up buying something. So, restrain yourself.
It's also a great way to learn what your date is interested in.
5. Meet up for breakfast.
I know I said I don't like dinner dates, but breakfast dates tend to be more casual. This makes them a good choice for first dates. Breakfast generally runs for less than $10 a plate, and this way, you still have your Saturday night free for your friends.
6. Go window shopping.
Then, sit down with some gelato (or ice cream, or frozen yogurt). If there's a nice shopping center in your area, grab some gelato and go for a stroll among the nearby shops with your date.
7. Go to your city's local festival or county fair.
This one depends on where you live. But most cities have county fairs, street fairs or other events with vendors and music that make them great places to walk around and chat with someone new. Check out your city's website to see a list of local events going on near you.
8. Share a milkshake.
Yes, I realize it is currently 2016 and not 1955. But, don't underestimate how fun it is to walk into a diner and order a giant milkshake with two straws. Grab a booth by the window, order a fun flavor and forget about your commitment to kale for an evening.
For The New Couple
So, you've managed to find someone who still doesn't suck after a month or two of spending time together. That's awesome. But, after that new relationship excitement starts to wear off, things can become stagnant or too predictable. Don't let that happen.
9. Go for a walk around your neighborhood or town.
I know this sounds boring, but going for a walk (and holding hands) is relaxing. Walking around encourages discussion and allows you to invest all of your attention in the person next to you. It's also perfect if you want to get out of the house for a little while.
10. Go to a wine tasting or brewery tour.
Wine tastings are common. Usually, you can sample wines for free or order a decent-sized flight for pretty cheap, especially if you split it. Brewery tours are also generally free, regardless of whether or not you actually purchase beer. Explore the flavors of wine or behind-the-scenes workings of breweries together.
11. Try salsa dancing.
A lot of salsa dancing clubs offer an hour-long beginner's class and a night of open dancing for about $10. If neither of you has any idea how to salsa, take the beginner's class together and spend the rest of the night trying not to step on each other's feet. You can learn a new skill together.
12. Go outside and read together.
On a nice day, find a park or beach, lay down a blanket and curl up next to your partner while you both read your own books. Or maybe, you can paint while he writes. Or maybe, you can write while he plays his guitar.
It doesn't matter what you're both doing. Just enjoy your own activities while spending time together outside.
13. Go to a museum.
Depending on your city, lots of museums are either free to enter or have certain days throughout the month when they offer free admission. Find an art museum, history museum or science center to explore, and soak up some culture with your date.
14. Rent a kayak or bicycle, and get physical together.
If you both have bicycles, go cycling through your city. Otherwise, kayak rentals, roller-skate rentals and other similar outdoor activities usually only run $10 to $20 for two people. Enjoy the great outdoors on a budget.
15. Go to an open mic night.
Tons of coffee shops and other neighborhood spots offer open mic nights, where people can come and perform comedy or poetry. They're usually free to enter. You might just have to buy a coffee to support the business.
If you can't find one in your area, go to karaoke. Buy a beer for $5, and enjoy the hilarity of watching drunk people sing at the top of their lungs. Or, be brave and sign up yourself.
16. Have a board game night.
Grab a bottle of wine (Two-Buck Chuck), a deck of cards and some classic two-player board games for a night at the house. Put some music or nostalgic TV on, and enjoy a night of laughter together. Cooking together beforehand is another fun way to add to the evening.
17. Try geocaching.
If you're a fan of adventures and scavenger hunts, you should check out geocaching. It's basically a treasure hunt using GPS. It can be a really fun way to explore your city with your date.
For The Long-Term Relationship
The two of you have been together for so long, you feel like you've done everything already. It's easier to stay inside and just watch Netflix than get dressed and go to the same bar again.
While there's definitely something to be said for cuddling at home in your pajamas and ordering takeout, try rejuvenating your relationship. Get excited to take your significant other out on a date, like the good old days.
18. Go on a hike.
Hiking isn't for everybody. But, it's definitely a better idea once you've gotten to know the person you're hiking with. Now, you're not trailing behind him or her, huffing for breath and unable to ask any questions because you can barely breathe. Just make sure to wear the right shoes, and bring lots of water.
19. Visit a speakeasy.
Drinks in a swanky lounge are pretty pricey, but if you stick to one per person, you won't have an expensive night. Plus, you have an excuse to dress fancily and enjoy the ambiance of a sophisticated lounge. Here, you can usually cozy up in a corner with your partner.
20. Go stargazing.
Go somewhere without a lot of city lights. Lay down a blanket, bring a thermos of hot cocoa and snuggle up with your sweetheart. You can opt to bring an astronomy book or a small telescope to identify the constellations above you, but just enjoying nature under the stars is also a nice break from the hustle and bustle of life.
21. See a live comedy show.
Improv is cheap, especially if you see a local comedian. Even stand-up comedy is usually reasonably priced (depending on the venue and the comedian).
22. Go on a cooking double date with another couple.
Do either of you have a good friend who is also in a relationship? Invite the couple over (or go to their place) for a cooking date. This is more exciting than just a normal dinner and Netflix date in your own home. This way, you get to be social, which means you also have an excuse to wear something nicer than sweatpants.
23. Have brunch in bed.
Though brunch is literally the best thing ever, it can get pretty expensive, especially when you order bottomless mimosas. On a cozy Sunday morning, one of you can mix the mimosas, and the other can make the pancakes. Then, you can enjoy them together on your patio (or even in your bedroom).
24. Pack a lunch, and take a day trip to the next town over.
Pack some sandwiches, iced tea and snacks, and hop in the car. Blast your favorite music, roll those windows down and follow the highway until you're somewhere new.
Sure, you'll have to pay for gas and possibly some parking, but you'll save money on food. Plus, you'll still get to explore a new town.
25. Find a sport to play together, like tennis or basketball.
Once you buy rackets for yourself, tennis is literally free. Once you buy a basketball, that's free, too. Just find a court  – check your local park or community center – and challenge your partner to some friendly competition while you enjoy the great outdoors and get some exercise.
26. Go to the beach.
If there's a beach near you, spend a sunny afternoon on the sand while watching the waves with someone you love. If there isn't a beach near you, try visiting a lake or another body of water you can dip your toes in.
Dating is supposed to be fun, but it can be a lot less fun if you're spending half your paycheck trying to show your date a good time. Good luck out there, champ.