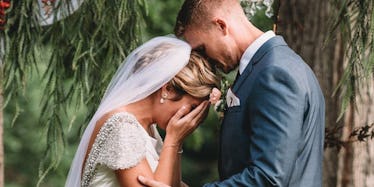 The Reason This Bride Completely Broke Down On Her Wedding Day Will Ruin You
You guys, it's 11 a.m. as I'm writing this. I thought it was too early for me to break down in tears in front of everyone sitting around me. But I absolutely stand corrected. The heart-wrenching photos of one sweet bride crying during her wedding were enough to literally drown me in a pool of salty tears.
I'M FINE.
But then, when I learned the exact reason why Brittany Adkins cried at her wedding, I had to go stare out a window for a few minutes to contemplate my emotional state and all of my life choices.
On July 22, 2017, Brittany was set to tie the knot with her fiancé, Jordon Yost, but unfortunately, something very important was missing from her wedding. For a long time, she had hoped her grandfather Ronald Adkins would be able to officiate her wedding. However, he passed in April 2016.
Brittany grew up being extremely close with her grandparents, having lived next door to them her entire childhood.
"I was always at my grandparents' house because I loved it there. But as a kid, who doesn't love grandma and grandpa's house?" she told HuffPost. "For me that feeling never changed ― he was always there when I needed him and never hesitated to tell me when I was wrong or what to do to make something better. He was always my go-to and one of my biggest supporters, and I was always his helper."
Because of their close bond, which Brittany calls "such a blessing," Brittany's mother, her sister, and Jordon knew they needed to figure out a way to incorporate Ronald in the wedding. And the way they did it will absolutely ruin you.
Toward the end of the ceremony, just before Brittany and Jordon were to be announced as husband and wife, the officiator at the wedding called for everyone to bow their heads. Then, much to Brittany's surprise, an audio recording of her grandfather's voice began playing. And like any of us would (seriously, like I am right now), Brittany completely broke down at the sound.
On the recording, which was actually taken from the bride's sister's 2015 wedding, Ronald announced Brittany and Jordon as husband and wife, eventually telling Jordon he may kiss the bride.
"I immediately recognized his voice and started sobbing," Brittany said. "Different emotions were racing through my head while trying to soak in hearing my grandpa's voice. I was weak to my knees, chilled, but despite all the tears, I was smiling inside."
Thankfully, wedding photographer Sarah Irwin was there to capture the touching moment.
After Irwin shared the photo on social media, the emotional pictures quickly went viral, even more so after they were featured on the Love What Matters Facebook page. In the post, Sarah wrote, "I've photographed a lot of weddings and this was the most incredible moment I've ever had the honor to witness."
According to Brittany, the recording was as much a surprise to her as it was to her guests. "Besides the bridal party and those involved, no one knew. Our guests, including myself, were weeping and the emotions and love that flowed through our ceremony was truly touching," she said.
It really does warm my otherwise stone-cold heart to know Brittany was able to have her happily ever after, including a little piece of her grandfather like she always wanted.
Cheers to Brittany and Jordon in hopes of a long and happy marriage, and most importantly, cheers to Sarah for capturing this sweet moment that has me saying, "I don't know why I'm crying in the club right now."
Just kidding. I know exactly why I'm crying. These photos are why I'm crying.
Check out the "Best of Elite Daily" stream in the Bustle App for more stories just like this!