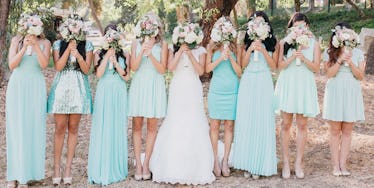 Brides-To-Be Admit The Biggest Secrets They're Keeping From Their Bridesmaids
Shutterstock
The process of figuring out who will be in your power squad for your wedding, aka your bridal party, can be a giant headache.
It can feel like you're on "The Bachelorette," handing out a specific number of roses to a room full of people who are all qualified to take on the role of being one of your gal pals during the big day.
So while they may be there for you to handle the rough, tough and stressful moments during the pre-wedding adventure, there may be things you're keeping from your bridesmaids because you don't want them to see your true bridezilla colors or panic over your decisions.
Here are nine brides-to-be who are coming clean about the number one thing they are hiding form their bridesmaids:
1. She canceled the stripper.
I found out by overhearing my maid of honor talk about how she hired a stripper for my bachelorette party. When she wasn't looking, I went on her phone, found the email from the company and canceled the whole thing. I did not want a stripper, so I took matters into my own hands.
— Kathy D., 29
2. She's making everyone wear hair extensions.
I want my bridesmaids to have hair like Victoria's Secret models; it's, like, my dream look for them. Some of my bridesmaids have gross, thin and hair and others just have long hair, but not long enough. As their bridesmaids gifts, I got them all clip-in hair extensions that I plan to have the hairstylist put them in on my wedding day.
— Maya R., 27
3. They're walking down the aisle alone.
My bridesmaids were fighting over who they were going to walk down the aisle with, since there are some hot, single groomsmen. They were literally fighting about this so much, so I made a decision to not have them walk with anyone. They will all walk alone and the guys will walk alone. I'm seriously treating them like babies.
— Tiffany D., 24
4. She's going to put them to work.
I haven't busted out my bridezilla attitude yet, but I know it's going to come out on the wedding day. I plan to put these bridesmaids to work. They have no idea what is coming their way. I don't have a wedding planner, but I do have 10 bridesmaids to help me out.
— Pam G., 28
5. How truly thankful she is to have them.
I've been a little moody and also not the friendliest to my bridesmaids because I've been super stressed with wedding stuff. But I'm keeping a secret how thankful I am for them because I don't want them to think that I'm going soft and they can slack off.
— Sam S., 28
6. She might cancel the wedding altogether.
I'm thinking of calling the wedding off. Nobody knows except my aunt in Ohio, who I'm really close with. My bridesmaids think all is good, but it's not.
— Jenna P., 28
7. She doesn't want a bachelorette party.
I'm dreading my bachelorette party. My bridesmaids planned a weekend for us in Atlantic City. I honestly don't want to go, and it's next week. I'm thinking of asking them call the whole thing off because I'm really not in the mood for this.
– Alex D., 29
8. Things aren't going well with the groom.
Things have been sticky with my groom-to-be and I. We've been fighting a ton. He has threatened to call off the wedding and so have I. My bridesmaids and family have no idea.
— Brit P., 26
9. She chose ugly bridesmaids dresses on purpose.
My big secret is that I made them wear ugly dresses because they are all really hot, and I don't want them to look better than I do. I picked not so flattering dresses on purpose. They probably think I have bad style and I don't. I did this on purpose.
— Michaela W., 31