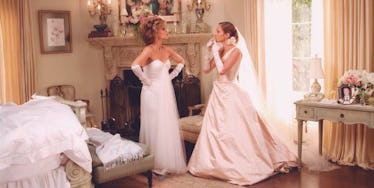 Brides Share The Crazy Fights They Had With The Mother Of The Groom
New Line Cinema
If you think you've dodged wedding stress because you've carefully handpicked a super zen, drama-free bridal party, you may be wrong.
Getting along with the groom's mother can be a total hit or miss. You may be blessed with a MOTG who makes you feel at home in her presence, or you may find yourself biting your tongue and rolling your eyes when you're around her.
If you're the person behind the Justin Bieber lyric, "My momma don't like you, and she likes everyone," then you may be trying to figure out how to get through your wedding without having a screaming match with your soon-to-be mother-in-law.
And you aren't the only one. Just check out the craziest fights these brides admit they had with the mother of the groom:
1. She ordered her own invitations.
I spent around $1,200 on invitations and had them printed and sent to my address. Right before I put them in the mail, my mother-in-law called me and told me she already sent out invitations to my guest list — ones she made. She did it to spite me and to take control of the wedding. This was the moment where I sat my husband down, and I literally said it's me or your mother. I needed him to put her in her place, and he did.
— Shelly K., 30
2. She threatened not to come.
I was fighting with my mother-in-law during the entire wedding planning process. Every decision I made, she disagreed with. My husband was in the middle of it all, and it made us fight even more. A week before the wedding — I think we were fighting about party favors or something stupid — she hung up the phone on me and texted her son saying she wasn't going to come to the wedding. She was such a drama queen the whole time. She ended up coming. Duh.
— Beth G., 29
3. She told me my wedding looked ugly.
Right before the ceremony started, my husband's mother came up to me and said, 'Wow, this is how you decided to decorate your wedding? It is so ugly.' I'm not one to bite my tongue, so I told her that her opinion doesn't matter to me. She rolled her eyes, and I told her if she'd not happy here she could leave. My mom stepped in and broke up the fight before it turned into an episode of 'The Jerry Springer Show.'
— Alena R., 26
4. She wore white.
Like, can you believe my darling mother-in-law wore white? I swear she did it to spite me. When I saw her arrive at the wedding, I told her to go home and change. She said no, so I wouldn't let her walk down the aisle. This was the start of an ongoing battle between us.
— Debby R., 27
5. She asked to give a toast.
My mother-in-law asked to give a toast at the wedding. I said no because she and I don't get along, and I was scared of what she would say. Plus, she is a talker, and I was worried it would go on for like an hour. At the wedding, she grabbed the microphone and gave a 20-minute speech about how she was so sad her son was finally married. I grabbed the mic from her, and we started fighting in front of everyone.
— Marissa F., 29
6. She brought her own decorations.
She put these ugly picture frames on all the tables without even asking me. I went up to her on my wedding day and asked what she was doing? She said she wanted to have photos on the table. We argued for 20 minutes over this, and finally, the wedding planner got her to take them off the table. I'm still pissed, and this was two years ago.
— Brittany S., 29
7. She invited people I didn't know about.
All of a sudden, at the wedding, 15 people showed up who were not invited. My MIL secretly asked them to come. We had no place for them to sit, and the caterer was mad because there wasn't enough food. It was just so annoying to deal with, and I told her that was so rude. She was not sympathetic at all.
— Rach S., 28
8. She refused to pay.
We had a deal with my husband's mom that she'd pay for half the wedding and my parents would pay the other half. She agreed and said that sounded good. When the time came to pay for everything, she said she decided to pay only half of what we originally agreed on. My husband told me we shouldn't fight about it, but I called her and yelled. I was so pissed because she knew we couldn't afford this wedding, and now, we were going to have to pay. She eventually agreed to pay for what she said she would.
— Holly V., 32