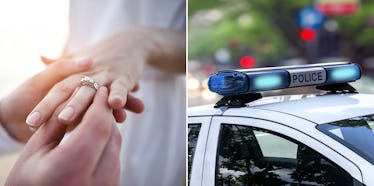 This Guy Proposed To His GF While Being Arrested, So What Excuse Does Your Man Have?
Shutterstock
I've written about my fair share of wedding proposals, and I've gotta say, I think I've finally found my magnum opus.
Yes, the guy who planned out his proposal for an entire year was pretty cute. So was the story about this woman who proposed to her boyfriend with his family's long lost signet ring. Oh, and how could I forget the guy who proposed to his boyfriend aboard their favorite roller coaster?!
You get the picture. I've heard my fair share of cute proposal stories. But oh, man, this particular proposal that happened on July 4 is just so... what's the word I'm looking for here? Unique.
So here's the deal, you guys.
Brandon Thompson, a 35-year-old Oklahoma man was enjoying his birthday and our nation's independence on the Fourth of July when he was arrested at his home on account of a not-so-casual six felony warrants.
But Thompson wasn't going to let a measly arrest get in the way of his plan to spend the rest of his life with his girlfriend, Leandria Keith.
"I asked the officer if I could propose," Thompson told CNN. "The officer said, 'You want to do what?' and I said, 'I want to propose to her.'"
Needless to say, this was a first for the cops in Muskogee, Oklahoma:
The officers arresting him felt bad that they had to take him away on Independence Day and on his birthday, so they decided to grant his one wish and let him propose to Keith.
Luckily for us, the entire exchange was captured on the police body cameras.
If you didn't have the pleasure of being able to watch the exchange with sound, let me provide you with a fun, little recap.
Rae Sremmurd's "Black Beatles" is playing in the background as the cops move Thompson's handcuffs to the front of his body so he can propose to his girlfriend.
He walks toward Keith ("Black Beatles" still playing and cigarette still in his mouth) and says, "I love you. Will you be my wife, please?"
Luckily for Thompson, Keith says yes, and he manages to get the ring on her finger.
One of the officers at the scene, Lincoln Anderson, said the officers allowed the proposal because they are "human," too:
We all want to see someone get their life on track. Hopefully it will help him make the choices it will take to support his future wife and his kids. And if by letting him take a moment before going to jail to do what he did, then we did our jobs.
According to CNN, the couple revealed that they hope to marry once Thompson gets his life under control, legally speaking.
"When you're in love with somebody and you know that you want to spend the rest of your life with them, you just want them to know how you feel," Thompson told CNN. "I wanted a new start for me and with the police taking me to jail I didn't have to worry about my warrants anymore."
Hopefully, Thompson and his new fiancée are able to get married soon.