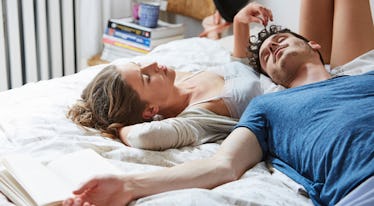 7 Signs Your Partner Is Being Kinda Selfish In Bed (Sorry)
#6 is a total game-changer.
In an ideal world, sex between two consenting adults is pleasurable for both parties, and you leave sex feeling satisfied and happy. But sadly, we don't live in an ideal world — and after one too many nights of going to sleep unfulfilled, you might start to wonder if your boyfriend only cares about himself in bed or if your girlfriend has a one-track mind… about herself. Sure, one second, you're grinding low to "Candy Shop" at ~the club~, and the next, you're getting it on. But then, it's over faster than it began, and you're lying there unsatisfied and disappointed — just like every other night — until finally you realize you've been missing the signs that you've got a selfish lover in your bed.
Let's briefly give your partner the benefit of the doubt. Maybe this isn't a case of selfish sex, and they're just haven't gotten the hang of pleasing you yet. Maybe they need to practice! Maybe you need to better communicate what makes you feel good so that they can work their technique. This is all fair, but let's assume you've already done all of this. You've told your regular partner that whatever you two are doing in bed just isn't cutting it for you. You've told them that hitting one spot doesn't work, but hitting another spot might! You've communicated, but nothing changes, and they honestly don't seem very eager to please you at all.
You can almost always tell if your partner is making an effort. They're asking questions, they're interacting with you, and they're genuinely interested in your pleasure. Even if the sex isn't that great, they're still trying, and that's something to be appreciated. But if the sex isn't great for you, and you can tell your partner isn't making an effort to get you going, even after you've spoken up about it, then it might be time to reevaluate your sexual relationship.
It's important to remember that, as noted by Dr. Berit Brogaard, D.M.Sci., Ph.D, in Psychology Today, men don't require as much as women do in order to orgasm. Most people with vaginas need some kind of foreplay before sex in order for it to feel good. According to a 2017 survey published in the Journal of Sex & Marital Therapy, only 18.4 percent of the women they surveyed said they could orgasm from vaginal intercourse alone. The same survey revealed that 36.6 percent of women reported that they needed clitoral stimulation to orgasm. It's understandable for your partner not to know this information. But if they know it, and they just don't care? Not cool.
If you're tired of meh sex and you're contemplating if your partner just legitimately DGAF about your pleasure, here are some signs to look out for.
Sex isn't everything in a relationship, but for a lot of people, it's an important indicator of your connection Being on the same page about your sexual needs with your partner makes your relationship stronger. Remember to have a conversation about why they continue to ignore your requests, rather than why they aren't doing what you want. It'll be a much more efficient conversation in the end, and if you still don't see a change, then consider re-evaluating your relationship. What's important to you? If good sex isn't something you're willing to compromise on (pssst: it shouldn't be), maybe you're better off without them.
Studies:
Debby Herbenick, Tsung-Chieh (Jane) Fu, Jennifer Arter, Stephanie A. Sanders & Brian Dodge (2018) Women's Experiences With Genital Touching, Sexual Pleasure, and Orgasm: Results From a U.S. Probability Sample of Women Ages 18 to 94, Journal of Sex & Marital Therapy, 44:2,201-212,DOI: 10.1080/0092623X.2017.1346530
Sources:
Irene Fehr, Certified Professional Co-Active Coach (CPCC)
Lisa Hochberger, LMSW, M.ED.
Kristen Lilla, AASECT certified sex therapist and AASECT certified sexuality educator
This article was originally published on