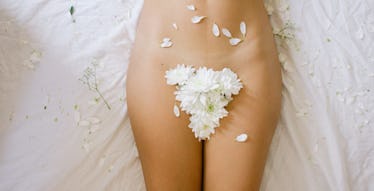 Born Again: Why Waiting For Sex Is The Latest Trend In Hollywood
A new series called "Born Again Virgin" made its debut on television earlier this week. The light comedy tells the story of a 20-something woman who has had her fair share of promiscuity in the past.
When she realizes her "body count" far exceeds her age, she decides to take on the new lifestyle of abstinence.
While there's a handsome antagonist who tempts her to shut down her venture, as well as friends who have no faith in her new life goal, it got me thinking.
Is the born again virgin momentum a movement that's becoming the latest fad in our generation?
From Super Bowl champion Russell Wilson revealing that he and his girlfriend Ciara are abstaining from sex, to other popular shows like The CW's "Jane The Virgin," it seems like the new thing these days is to not do it.
After all, our generation is waiting to do lots of other things, too. Long gone are the days from the 80s when the expectation was to go to college, meet that special someone and get married pretty much right after walking the across the stage at graduation, all just in time to start a family.
Now, young professionals seem to be waiting much longer before taking the plunge of marriage itself. Most of us want to secure a well-paying job in our field, buy a home and just have our lives together in general before settling down for good.
It would be naive to think all couples have decided to wait until they say "I do" before they take that step in their relationship. Or that every once-promiscuous female and playboy is taking a vow of abstinence.
Still, we can't deny that many are starting to think a little more about it before jumping into bed with their significant other or the cute guy they met on Tinder. Believe it or not, it's for a cause that's much more meaningful than playing hard to get (for both guys and ladies).
For instance, sex can complicate things in a relationship, especially if you haven't had "the talk" about marriage, children and your future goals.
Moving too quickly physically can not only cloud what was once a responsible perspective; it can also cause both of you to rush into a pool of emotions that neither of you are ready for.
Plus, it brings the risk of the connection becoming solely a physical one.
Waiting to have sex is also a trend for those who have adapted what's known as the "old school" way of thinking. It brings hope that romance and taking the time to get to know someone still exists. Being able to find a person who desires the same thing and is on the same page is like hitting a gold mine.
The trend of having sex to impress someone or keep them around is also fading fast. From the female perspective, we're starting to value ourselves more and throw away the worry that our seemingly perfect love will skip out if we don't take that step.
Despite the stereotype that Generation-Y has an entitlement mentality, many are willing to work harder to find creative ways to display their affection.
I must say, it's not a bad thing at all.
In fact, waiting has been proven to help a guy respect you more, and potentially view you as someone he could marry one day.
Terri Orbuch, PhD and host of "The Love Doctor" has said, "By waiting, you communicate that you really want to get to know him and find out who he is before having sex. Truly mature men appreciate and respect this!"
It's no secret that the pressures of society, from social media to the beautiful girls in Victoria's Secret commercials, don't always help the abstinence journey. But you might be surprised by some of the celebrities who have decided to wait before being intimate.
Interestingly enough, Victoria's Secret model Adriana Lima waited until she was married to Marko Jarić to lose her virginity.
"Twilight" heartthrob Taylor Lautner also took a vow of abstinence back in 2009. While he didn't say he was waiting until he got married to have sex, he did make it clear that he was waiting on the right girl.
"The Real" cohost Tamera Mowry-Housley has also been an advocate of abstinence. Even though she and her husband Adam consummated their relationship before marriage, she revealed that they decided to wait before they did it again.
Let's not forget that singing sensation Jessica Simpson saved herself until her wedding night with then-husband Nick Lachey.
While Mariah Carey and Nick Cannon only got hitched two months after dating, they didn't have sex until they were husband and wife.
Actress Meagan Good has also publicized her willingness to wait before she married pastor DeVon Franklin back in 2012. Famous Jonas brother, Kevin, sported his chastity ring with no shame until he married Danielle Deleasa in 2007.
So, for those who are joining the abstinence crew, know you're not alone.