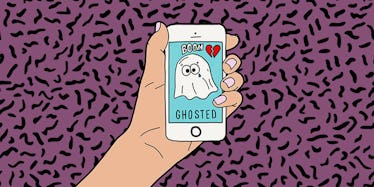 This Girl Was Ghosted By A 'Nice Guy' After They Finally Had Sex
Kylah Benes-Trapp
Ah, ghosting. It's the dating phenomenon that happens when people are too cowardly to actually end things with the people they've been seeing, so they choose to just… disappear instead.
Ghosters are idiots. But if you've ever been ghosted, know that you're not alone.
In this weekly column, I share a tale of a time a reader was ghosted (with accompanying screenshots) so you can see the last text that was sent or words that were uttered before someone decided to disappear forever. I present to you: Boom, Ghosted.
This week, we have Sarah*, who experienced firsthand what I think most of us consider to be a dating nightmare: She was ghosted by a guy after finally deciding to have sex with him.
Read the story in Sarah's words here:
So, we met on Tinder. We talked on there for a bit, and we had a lot in common so I gave him my number. We texted for two weeks before we met. He asked me out a couple of times, but I was busy and couldn't go. I am leaving NY in a couple of weeks (been here for a year), and I had a NY bucket list (lol). So, we talked about it, and one of the things on my list was to see a Broadway show. He said he had free tickets from work to see Fiddler on the Roof for the following Thursday, and he needed a date. I agreed to go. On Monday he canceled because he had a work event. So, the following week we finally met (Tuesday). We went out for a drink and had a great conversation. He pulled out his phone to type my bucket list and told me he wanted to help me complete it. He walked me to the train, and we kissed. I really felt we had a strong chemistry. The following days, he kept texting me, added me on FB and everything seemed normal. On Friday, he asked me if I had plans for next Thursday. I said no. He replied, "Now you do, I'll keep you posted with details." The next week, he kept telling me how excited he was about our secret activity on Thursday. Here are our screenshots from Wednesday night, the last time we texted:
Thursday, he called me to meet for dinner first and then for the secret activity. We had a really nice dinner and drinks, and then he told me we were going to go see "Wicked." I thought it was so sweet the way he planned everything. After the show, we had more wine and kissed. He was really sweet, the type of guy you don't think will ghost you... lol. I ended up going to his place. Was that a bad decision? Maybe that's all he was looking for. The next morning, everything was fine. He was the same sweet guy we talked and talked, and when I left, everything seemed pretty normal. He didn't text me the next day. The day after, I said "Hi," and we texted for a little bit and again everything was normal, same conversations we had before. He used to text me daily, but after that last conversation, he never texted me again. So, I texted him a few days later "Is everything ok?"  And then one more time. Here's a screenshot of our last conversation from my Apple watch:
No response, he deleted me from FB and never texted back. It sounds crazy, I know.
So, what do you guys think? Sarah asked in the passage if we think it was a mistake for her to have gone home with him that night.
Personally, I don't think so. I think this guy was a total dingus. Also, I think you should never expect to be ghosted for going home with someone at the "wrong" time.
In fact, there is no "wrong" time, as far as I'm concerned.
I know having sex with a person and never speaking to them again is a "thing." But I never really understood it.
Like, if someone knows they can have sex with you, why would they just not take advantage of the situation? What's the point of not talking to someone you are clearly attracted to and who is willing to have sex with you? If you understand this, please explain.
But what do you guys think of the whole situation? Do you think this whole thing is totally out of the blue and bizarre as I do?
Maybe you've gone through something similar to this. If so, I'd love to hear about it!
I'm sure Sarah would, too. It's always nice to know you're not alone in this sort of thing.
As always, feel free to make your own submissions to Boom, Ghosted here.
*Name has been changed.