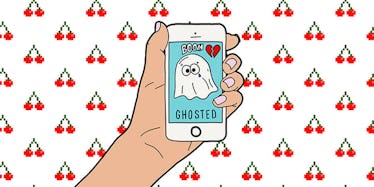 This Girl Was Ghosted By A Guy She Wore Sexy Lingerie For
Kylah Benes-Trapp/Shutterstock
Ah, ghosting. It's the dating phenomenon that happens when people are too cowardly to actually end things with the people they've been seeing, so they choose to just… disappear instead.
Ghosters are idiots. But if you've ever been ghosted, know that you're not alone.
In this weekly column, I share a tale of a time a reader was ghosted (with accompanying screenshots) so you can see the last text that was sent or words that were uttered before someone decided to disappear forever. I present to you: Boom, Ghosted.
This week we have Mariah*. She was ghosted TWICE by a guy she had been seeing for months. Read her story for yourself here:
I was ghosted so hard this year. Spent months with a guy. It was great. Serious discussions, sleepovers, intimate conversations, lots of phone calls. Then he disappeared. His friend said he wasn't ready after going through a divorce. He had said similar things, but his actions spoke otherwise for a while. We drifted apart, and I got a phone call... things heated up again, we spoke all the time, lots of texts and calls... saw each other a few times. His birthday rolls around. I, of course, plan and love other people's birthdays. We makes plan for the night before so that he can spend his actual birthday with his daughter (she's two). I end up running late because my dad was getting ready to have surgery. This guy seems all concerned and says let's reschedule for tomorrow and that he wants to spend his actual birthday with me.
I was going to make him dinner. He messages me and says let's go out. I agree. Says he will come to my house. I have a gift, cake and am even wearing lingerie waiting for him because we had JUST discussed how much he loves it. Picture me on my bed waiting for him, and that asshole texts me, "I'm going through some personal things, not coming over," about five minutes before he was supposed to be at my house. Didn't hear from him again until a couple months ago. He just did the same thing to me recently. Only this time, he came over, slept with me, said he got a phone call to pick up his niece and would be right back in an hour. Never came back. Hours later, I messaged him asking if he'd be back for dinner. (He said he was staying overnight and couldn't wait to sleep over multiple times before he left.) He messaged me around 8:30 and said he fell asleep and didn't feel like getting out of bed. I said to suck it up and come over because it's all we've talked about for weeks and he never responded. Nothing since.
What do you guys think of all this? Personally, I have trouble understanding how a man with a DAUGHTER could do this to any woman. Like, if he were just another stupid fuckboy, I would get it. I wouldn't condone his behavior, but I would understand.
But a DAD?! I just don't get it.
If you think you understand where he was coming from, PLEASE do me a favor and explain in the comments. Or, maybe you're like me and you understand this girl's point of view. I want to hear from you, too!
If you have your own submission for "Boom, Ghosted," please submit them to me at boomghosted@elitedaily.com!
*Name has been changed.