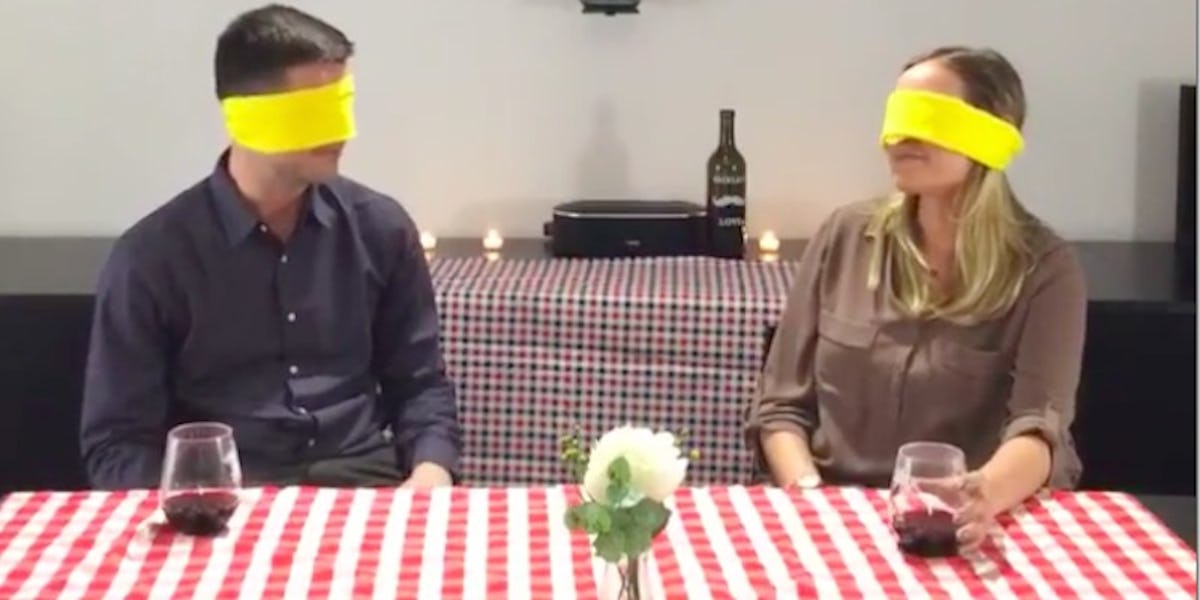 Two Strangers Went On A Blindfolded Blind Date, And It Did Not Work Out
Elite Daily
If you're a fan of Elite Daily, you may be familiar with our Blindfolded Blind Date segment on Facebook Live.
On Wednesdays, we set two strangers up on a live-streamed date, but there's one catch: They don't get to see each other until the very end, after they decide to go on a second date or not.
Jenna and Jacques both said "yes." As did Sepp and Katie.
This time, however, things turned out a bit... differently... for Kayla and Matt.
Check out how it unfolded below.
The blind date started out pretty slow...
But Senior Writer/waitress Zara Barrie wasn't going to let them off easy, and they had to describe their perfect "physical type."
They also had to tell each other at what point they sleep with someone in a relationship.
Of course, the election needed to be addressed.
Matt needed some wine before he had to tell Kayla the one thing he'd change about his childhood.
Kayla found out Matt wished he played more team sports, and he's from California...
Zara then made them talk about the importance of sexual chemistry in a relationship.
Obviously, they needed more wine.
Up next: They had to describe their last relationship.
But one of the MOST awkward questions was a little too personal...
And when they were asked if they wanted a second date...
Ouch.
Matt explained the one thing that made him say "no."
And Kayla told the audience the reason she was going to give him a second chance.
Guess it just wasn't meant to be this time.
You can watch the entire date here, and make sure to tune in to Elite Daily's Facebook Live on Wednesdays at 8 pm EST.