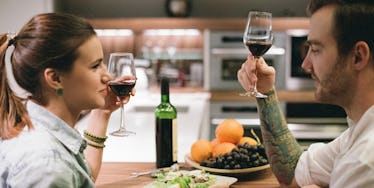 This Is Why Going On A Blind Date Is Exactly What You Need To Get Out Of A Dating Rut
Blind dates are either excruciatingly painful or the best way to find a partner.
If you've been using dating sites, but continue to find yourself single, try going on a blind date. Ask family or friends to set you up and enjoy all the perks of blind dating.
1. It's convenient for those of us with a hectic lifestyle.
For most of us, the thought of actually going on a date brings up nausea.
We all live very busy lives, and that's probably why dating gets put on the back burner for many of us.
As we strive to make a dent in our careers, we can unconsciously stunt our growth when it comes to relationships. Having a blind date set up for you can really be wonderful for those with a busy lifestyle.
Set a date and push yourself to actually go.
2. You need to live a little.
Going on a blind date will automatically broaden your horizons when you finally get out of your own way.
One of the greatest things about blind dates is meeting people you otherwise wouldn't. Even making a new friend who isn't in your core inner circle is a great way to expand your life.
3. Other people are often better matchmakers than we are for ourselves.
It's usually the people closest to us that know us better than we know ourselves.
Letting a loved one or a close friend set you up with someone they think would be perfect for you is a wonderful way to find a partner.
4. You just might enjoy yourself.
Going into any date (blind or otherwise) with an open mind is crucial if you're trying to enjoy yourself.
Even if the person you go on a blind date with isn't the right person for you, you could end up making a new friend.
5. It can encourage you to date more.
If you've been stuck in a rut then going on a blind date could just be the thing you need. A successful and enjoyable blind date can give you some encouragement to go on more dates.
Whenever you go on dates, you're continually reminded there are so many different people out there, and soon enough, you'll find someone that is perfect for you.
All it takes is some perseverance and resisting the urge to give up when it gets tough.
6. The incredible possibility that you could meet your match.
The greatest reason to go on that blind date is you could meet your forever person.
All it takes is one date to find a match that makes you smile brighter.
While you shouldn't go on a blind date expecting to meet the one, having an open mind will eventually lead you to the right person.
Remember, anything is possible when you take the chance to go on a blind date
7. No harm, no foul.
If anything, there's nothing to lose by going on a blind date.
The worst thing is you may have wasted an hour at a coffee shop. In the end, going on a blind date has a ton of benefits and very few (if any) drawbacks. You can rest assured even if things don't work out with your blind date, you'll never have to see them again.
Take the leap. Take a chance. Call your mom and ask her to set you up. And then actually go forth and see what the universe has to offer you.