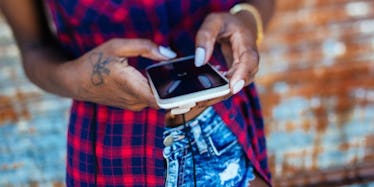 13 Of The Best Pick-Up Lines To Use On Your Next Tinder Match
Stocksy/Good Vibrations Images
Hot take: Tinder is a beautiful thing. Before you @ me about how dating apps are ruining modern love, hear me out. Tinder allows you to be fully judgmental of a person without being a total jerk because it's not real life, and the person you're swiping left on can't see your grimace when you notice their tattoo of turntables that suggests "I was a DJ in college." Also, you might match with a cutie who could end up being your SO. For the cuties, you'll need the best Tinder pick-up lines to make sure the conversation actually gets started. (Because most matches never even talk to each other.)
"Hey [insert waving emoji here]" is so 2014, so you're going to want to think of a pick up line that is clever, cute, charming, and reflective of your entire personality. Easy, right? JK, you don't need to convey all of those things in one sentence. (And yes, the best pick up lines are one sentence. No need to go Tolstoy on a potential bae.) The best Tinder pick up lines fall somewhere between the generic "heymoji" and the short story about the summer camp that you went to that was in your match's hometown. Keep it simple, fun, and above all, say whatever you want.
Here are thirteen of the best Tinder pick up lines that you can use on your next match:
1. Pizza Or Tacos?
This is my favorite, because I find it to be a very difficult question. Plus, everybody loves giving their opinion and everybody loves food. Hopefully, they'll ask you for your fave in return, and then you can continue the conversation about the best spot in your city for tacos.
Hot tip: If your match says "Dumplings #staywoke" — marry them.
2. What's Your Puppy's Name?
Yes, use this even when they don't have a dog in any of their photos. This one is a little rogue in that your match could be totally taken aback, but usually confused people like to figure out what's going on. There's nothing wrong with conning someone into a reply, right?
If they do have a pup in their photos, you'll open the conversation up to talking about if it's theirs, what kind of dog it is, and how you're both dog people. Bonus: It's a great way to rule out the cat people early on.
3. Where's The Next Place You Want To Travel?
OK, so Hinge has this one built-in to its template, but Tinder does not. You can add "if you could only choose one place..." as well. Everyone has an answer for this question (Tokyo) — except for a dude I recently went on a first date with who said "I don't know" when I asked this same question in person. I eventually got him to reply "I've been really wanting to get back to Florida." Needless to say, it didn't work out.
However, most people will actually want to talk about all of the cool, worldly experiences they've had. Bragging is fun!
4. What's Your Favorite Bar In [Insert City Here]?
Yup, this is pretty much fishing for a drinks invite, but again, everybody's got an opinion. Plus, I feel like knowing what someone's favorite bar is can be super telling. It's especially good if you are actually new in town..
5. If You Could Open A Restaurant, What Would It Be Like?
This one is a little more involved, but I would have fun answering it. You'll find out how imaginative your Tinder match is pretty much immediately.
6. French Fries Or Tater Tots?
OK, so I really like the divisive food questions, oops. They're low stakes and fun to reply to.
7. What's The Weirdest City In America You've Been Drunk In?
I stole this from my roommate, but I really like it. You get to hear a funny anecdote about a random spot, and you also get to find out how fun your match is. (P.S.: Columbus, OH.)
8. T Or A?
This is a good one if you are just looking to get laid. It's a little much, but it's less offensive than sending a dick pic. You might just want to know if your match is a boob or butt person, and I feel like dudes especially would give you brownie points for this one, but beware, this is a slippery slope to sexting a stranger. You could always fire back with, "I meant Texas or America?" (Perhaps this was ill-advised...)
9. Did You Donate To Hurricane Harvey/Irma?
I like this because even if it doesn't go over well, at least you might have shamed someone into donating.
10. Would You Rather Find A Cockroach Or A Rat In Your Apartment?
Good for the New York set. Any WYR? is a great ice breaker. The grosser the better.
11. Spring Or Fall?
Another toughie, this is especially useful if you live in an area with actual seasons, but there are definitely differences between being a "spring" person versus being a "fall" person. Again, super low stakes and anything begging an opinion is probably going to get a response.
12. Truth Or Dare?
If you start with "truth or dare," you'll have an entire game to play via messaging. It's fun to see what your match comes up with, too. You can, obviously, dare them to go on a date with you if things are going well. Kinda cute?
13. Netflix Or Cuddling?
A final, very polarizing decision. Don't let them get away with saying "both."
You may have noticed that all of the pick-up lines above are in the form of questions, and that is because I feel like the best way to interact on a dating app, a first date, or even months into a relaysh is to ask your partner questions. Everyone loves talking about themselves, and asking a cutie a question will make them feel special. Humans are simple creatures. Have fun with these.