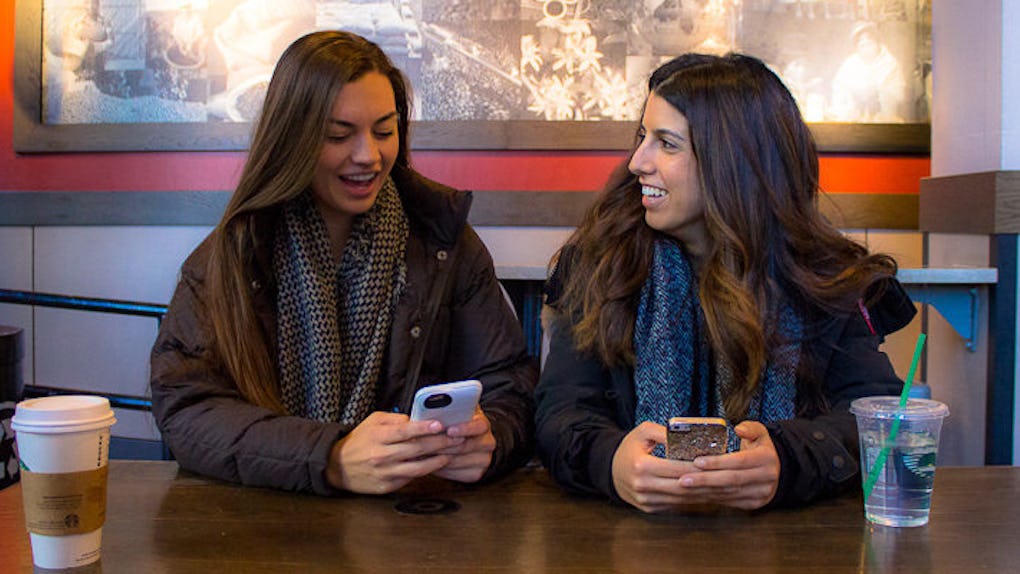 Celine Rahman
Girls Reveal Their Best Pick-Up Lines On Bumble
As I've said a million times before, I'm not huge on the whole dating app scene. But from what I hear, Bumble is ALL THE RAGE. Of course, if you identify as a lady and you're not suave with pick-up lines, Bumble can be a bit daunting. But, luckily, you've come to the right place. I asked real women to share their best pick-up lines on Bumble, and boy did they deliver.
And the best part? These lines don't have to be just for Bumble. You can use them on any app of your choosing. More of a Hinge person? Try one out on there. More of a Tinder person? What's stopping you from spitting some mad game? I mean, sure, they're especially helpful for Bumble because it's the app that requires women make the first move, but a good pick-up line can go a long way on any app.
OK, now that we've established that, let's get into these lines. I asked my friends, aka three twenty-something women, to share multiple screenshots of them using their go-to lines on different matches, and the results are truly nothing short of incredible.
1. "What came first, the chicken or the egg?"
Clever.
This guy knew how to do his research...
*No biologist but casually drops terms like "uni-celled zygote."*
Or this low-key philosopher...
So, why does this line work? First of all, it's harmless. It's not saying anything too groundbreaking or divisive, but it's also thought-provoking, and it's most likely a question the person you're talking to has considered before. In other words, it's lighthearted enough to work for a casual opening line to a virtual stranger, and just loaded enough to get a feel for their personality.
2. "This is my opening line: ------------------"
This Johnny Cash fan was well-versed in emojis...
This inquisitive fellow had a bit of an attitude, but that's OK! Thank u, next.
Flirty, flirty!
At least he liked our corny line...
I love this line because it immediately gets a pulse of the person you matched with's sense of humor. If humor is something that matters to you in a potential romantic partner, I would highly recommend keeping this question on the docket. Why? Well, because a person with no sense of humor would either respond with something lame or not respond at all. Might as well suss them out right from the get-go, right?
3. "F*ck, kill, marry"
You could get this guy who was looking to bust a little something more than a nut...
Or this guy who has a logical explanation for everything...
Or this Renaissance man who was concerned with a woman's right to say "no" even in a hypothetical game...
Or this guy who was simply left speechless by your awesome line...
Full disclosure: This was my go-to pick-up line back in my day. One time, during a first date, a guy from The League asked me if I used this line on every guy I matched with. I lied and said no, and I still feel guilty about it! But my guilt about lying to a guy I casually dated five years ago is neither here nor there. We're here to talk about why this line is incredible and, as someone who used it hundreds of times, I can personally attest to its ability to serve as its own little personality test. You can learn a lot about someone based on who they choose to f*ck, kill, and marry.
Freestyle. Make it personal.
You could find a guy who completely disregards your acknowledgment of his heritage…
Or this guy who was offended but intrigued...
Or this guy who knows how to return the compliment...
 If you've got the time, I would say going with something personal is the way to go. People like to feel special and, if you're trying to make a real connection, the best way to go about doing that is to make a personal comment as soon as you can. It starts things off on a more real basis and lowers your chances of getting stuck in a dumb flirtation loop.
Needless to say, you don't need to copy and paste these exact lines. I mean, if you want to copy and paste these exact lines, by all means, go for it! But if they're not quite for you, that's cool too. The point of these screenshots is to get your creative juices flowing and maybe provide some inspiration for your own go-to pick up line. C'mon, I know you have one in you.
This post was originally published on 1/26/16. It was updated on 9/6/19. Additional reporting by Candice Jalili.