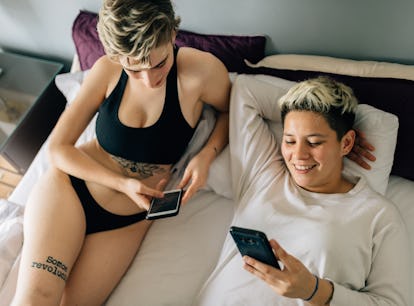 20 Lesbian Memes That Are Just Literally Perfect
ferrantraite/E+/Getty Images
There has certifiably never been a better time to be a lesbian. Well, except maybe in, like, 5,000 B.C., before they invented Europe, imperialism, and homophobia. Bummer! Fast forward a gazillion years and here you are, during the greatest woman-loving woman renaissance ever recorded, watching a modern-day remake of The L Word, planning Kristen Stewart's wedding, and sitting around in your underwear giggling at the endless stream of lesbian memes that grace the internet every single day. Never mind that only 14% of Russia's population thinks homosexuality should be accepted by society according to the latest Pew research — these are the golden ages, baby!
Lesbian memes unite the queer community around a shared purpose: Spreading joy. Instagram's wildly popular lesbian meme accounts like @godimsuchadyke and @everylesbianandtheirfashion are some of the horniest, most yearning, shameless, and LOL-worthy corners of the app. As an avid follower myself, take it from me: You can hardly go more than a day without scrolling past a thirst trap of Aubrey Plaza or Kehlani, and that's just how we like it, thank you very much.
For anyone who worships at the altar of Holland Taylor and Sarah Paulson, watches Euphoria strictly for the gayest subplots, has ever dated an ex's ex, or speaks fluent Carol, lesbian memes are like candy. Calling all butches, futches, femmes, tops, bottoms, pillow princesses, and switches — whoever you are, there's a lesbian meme waiting for you to screenshot and send to your crush. Without further ado, here's a roundup of 20 pristine lesbian memes.
Whatever your mood, media diet, or preferred form of outerwear, there's a lesbian meme out there with your name on it. Go forth and cackle your gay little heart out.