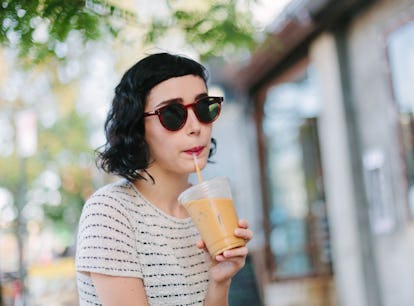 Here's What To Do If You Think Your Date Stood You Up
Do you reach out? Do you wait it out? Is it OK to cry?
Dating can be a lot of fun. You get to meet new people, share experiences, define and fine tune your interests, better understand what you're looking for in a partner and in partnership, and open yourself up to sharing a little passion and romance with someone new. It's exciting, all of the promise and pleasure a first (or fifth) date holds. But with all the good stuff, there are just as many nerves that come along with putting yourself out there — awkward dates, a lack of chemistry, or dates that don't happen at all because the other person doesn't show. Being stood up is awful and difficult to navigate, and how you react in the moment can be just as confusing. Do you reach out? Do you wait it out? Is it OK to cry? Before you react, knowing how to make a situation where you think you're being stood up less painful and uncomfortable is a good place to start.
The first step, according to Alessandra Conti, matchmaker, dating expert and co-founder of Matchmakers In The City, is to just accept that sometimes it happens, but it's hardly the end of the world. "In our generation, apps have made it incredibly easy to make plans and then flake on plans," Conti tells Elite Daily, adding "especially if the plan is vague, and there is no set date/time/location, so be sure to firm up plans at least a day before you are set to meet up." Being clear about meeting time and place is just about all you can do before a date, and Conti suggests sending a low-stakes text on the day of your date. Because the best defense is a good offense, saying something along the lines of, "Hey! Still on for tonight?" can help eliminate the Will they? Won't they? game you're playing in your head. And to alleviate the pressure on your date, Conti says it's "always good to text your date when you are on your way to the location to give them a realistic ETA. If you are running a few minutes late, it is best to let them know, or you might risk them thinking that they are the one getting stood up!"
Communication is key, but when you're waiting at your local coffee shop with two lattes in hand 15 minutes past meeting time, it can be hard to find the words to figure out what to do next. Todd Baratz, a psychotherapist specializing in sex and relationships, tells Elite Daily, "There is no right or wrong way to manage the feelings that accompanying being stood up or rejected." It sucks, he says, adding "the only way to handle [it] is to cope as best as you can." Knowing this, here are a few more expert-approved tips and tools to help you navigate being stood up on a date.
This article was originally published on