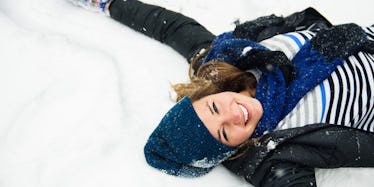 Spending Time With Married Couples Helped Me Feel Better About Being Single
The breeze is getting colder, your North Face jacket is starting to become a necessity and holiday parties are packing your calendar -- winter has officially arrived.
It can be a very joyous time of year spent with friends and family celebrating the holidays, but it can also be a time for us single people to dwell on our relationship status.
As a single person walking happily in their single season, I've learned these months are no different than any other month of the year.
Singleness doesn't change because the season does, but it does sometimes take strategy to get past the "are you seeing anyone?" question at family gatherings.
Since embracing my singlehood, I've learned this time of the year can be just as enjoyable as the rest of the year with the right perspective and plan.
It takes patience to handle the nagging relationship questions from family and friends, but being content with your relationship status during the winter isn't so hard if you put forth the effort.
Here are four things I'm doing to be content with my singleness this winter:
1. Avoiding the Hallmark channel.
Hallmark is known for its perfect love stories.
A woman goes to work, quits her job, decides to go after her dream and finds love along the way. Or the guy's wife dies in a car accident, he can't handle it all and a true love is sent his way.
As a recovering avid watcher of Hallmark, I can tell you how damaging this constant cycle of instant love is.
I love love. I hope one day my forever mate will find me and we'll dance happily ever after in the sun, but in this stage of my life -- single, building a career, investing in my future -- instant love isn't real.
Yes, there's a chance I'll meet my true love on a train, we'll grab coffee and be married in a year. However, the reality is that dating just doesn't work like a 90-minute movie.
It's more confusing, emotional and full of mistakes and misinterpretations.
When Hallmark airs their Christmas romance marathons, I'll be turning off and tuning out.
2. Spending time with married couples.
This season has many opportunities to evade feelings of loneliness, and one of the best is to keep busy.
I enjoy helping families during this busy time of the year, and as a member of the Single Ladies Ministry at my church I dedicate 12 hours a month to various families in our congregation.
In addition to the 12 hours we spend, each Sunday the singles sit with couples and assist them with their children throughout the services.
I enjoy spending this time with married couples because it helps me cast down any imaginations I have of a "perfect marriage," but still gives me hope for the future.
It's great for single and married people to support each other and build long-lasting friendships for the busy and difficult times in their lives.
3. Having single friends to confide in.
The bond I have with the other single ladies at my church is inseparable. We laugh, cry and walk in our single journeys together.
It's important to have people around me who understand the moments of loneliness that may enter my heart when I feel like I'm the only single person attending a Christmas festival.
Having a core group of women to not only share my season of singleness with, but also my life, is a very refreshing experience. However, these women are also there to snap me back to reality.
Many of us aren't destined to be in a relationship, be married or have children.
This doesn't mean any of us are less lovable, but it does mean we have to remember there's a purpose for our lives outside of the roles of wife and mother.
What I remind myself and my friends is we're always here for each other; whatever we choose to do in life, we'll never be alone.
4. Spending time with my higher power.
The most important way to take my mind off my relationship status is by spending time in prayer and meditation.
Contrary to our culture, being single isn't a curse. It's a journey worth living.
During this season, I've learned to rely on my higher power for content and happiness and that happiness doesn't lie in a relationship.
Being single has taught me essential skills in dealing with my emotions, and learning how to effectively problem-solve.
Having a higher power to go to during my times of loneliness, desire and pity helps me know I can get through my single moments without losing my head.
I'm able to lay out my wants and needs without judgment and fear of what someone may think of me, and I'm able to be honest about where I'm at in my struggle and pray about ways to find contentment.
These four things are keeping me grounded during this holiday season, and I hope they can do the same for you.
We all have a purpose, it's just up to us to be open to finding it.