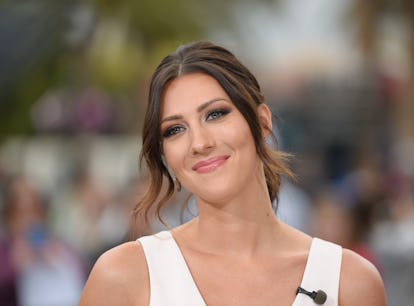 Becca Kufrin's Complicated Relationship History Is Full Of Ups & Downs
I need her to have a happily-ever-after. That's all.
Noel Vasquez/Getty Images Entertainment/Getty Images
Based on Becca Kufrin's relationship history, it's clear she has a type: tall dark, and handsome. One other trend I'm noticing? Most of them have Bachelor Nation in common as well. Considering Kufrin is one of the franchise's most popular leads, it's not exactly a surprise that she's open to forming a connection with others who share her proclivity for rose-filled journeys. She didn't become the first lead to go back to Paradise for nothin'!
That said, Kufrin's romantic past is pretty complicated, and that doesn't even get into that time she dated 30-ish men at once as the Bachelorette. Even when looking solely at her more serious, long-term relationships (or rumored relationships), it's clear that Kufrin's romantic life has been full of ups and downs. And although her current relationship status is unclear (despite rumors suggesting that she's taken by a certain Bachelor Nation villain — but more on that later), I'm hoping things are headed in a positive direction for Kufrin.
Maybe it's because I'm still scarred from her televised breakup with Arie Luyendyk Jr., but I will always think Kufrin is a class act who deserves nothing but the best. A close look at her tumultuous history has only made me more confident in that. Here's why.
No matter what the spoilers say, it will still be some time before we know for sure what actually goes down between Kufrin and Jacobs. The BIP finale won't air until Sept. 21, but I, for one, cannot wait to see which way Kufrin's love life takes her. No matter what, I'm feeling confident that she'll "do the damn thing" without any regrets.