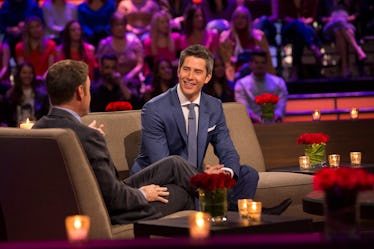 We Finally Know Who "Wins" Arie's Season Of 'The Bachelor,' But There's A Catch
Just like that, another woman has scored the slightly icky-sounding title of a Bachelor winner. Those following rumors of Arie's previous playboy ways (Tia's dad and brother leading the pack, of course) probably had their suspicions about a proposal actually happening this year. However, the only racecar driver most of us can list by name still got down on one knee in the March 5 Bachelor finale. So, who wins Arie's season of The Bachelor? Becca K. ultimately received Arie's final rose in the pre-taped portion of the Season 22 finale.
Although her relationship with Arie slightly faltered when her ex-boyfriend showed up in Peru to attempt to win her back, Becca remained confident about her chances with Arie throughout the season. Snagging the show's Pretty Woman-esque first date and having Arie spoil you rotten during it can definitely keep your self-esteem up. The Minnesota publicist only showed doubts earlier in the finale when she questioned the strength of Arie's connection with runner-up Lauren B.
After meeting Arie's family, Becca asked him about the temptation of other women in his racing lifestyle, as any smart woman would want to know about before getting engaged to a sports "celeb." This and her insecurity about Lauren were Becca's first real struggles all season, but it soon seemed that her worry was totally unnecessary.
Arie's proposal proceeded as routinely as a Bachelor engagement always does. The pair complimented each other and took long, dramatic pauses (as very ominous heavy winds blew around them) before the inevitable finally happened. Arie bent down in front of Becca, whipped out a Neil Lane ring, and insisted that he would choose Becca "today and every day" as light, sweeping music played in the background. She accepted, and the two kissed as the camera flew around them, surprisingly quick to leave them in the throes of love.
In a giggly post-engagement interview, the two talked about having babies and dancing together for the rest of their lives, and it honestly just made the moment even more awkward to watch. How often do we know that so much drastic change has happened since the Bachelor proposal took place?
The quick conclusion of the scene told us that the much-reported finale twist – Arie dumps his fiancée to date the runner-up – was upon us. I hate to be that guy, but maybe Becca would've had better luck if she avoided wearing a black dress to the proposal?
Cue the immediate aftermath of the finale's taping, and Arie expressed immense guilt for still thinking of Lauren while engaged to Becca. He wanted to call off the engagement, and when Becca arrived in L.A. for one of their secret weekends together, he broke the bad news.
In unedited footage, Arie insisted that his heart wasn't entirely invested in his relationship with Becca. He mentioned his struggles in sorting out his feelings and his tendency to "still think about her." Speaking to Becca, he expressed an interest in seeing "if there's a possibility" with Lauren and that he had to "follow his heart."
Apparently, Arie and Lauren spoke to each other while he was engaged to Becca, and the conflicted Bachelor hid just how emotionally torn he was between the women. Being the sharp woman she clearly is, Becca called Arie out, mentioning that he always told her he never saw a future with Lauren.
She also felt betrayed that Arie presented the front of being ready for engagement and a long-term commitment. Worst of all, the moment being captured on camera likely only bumped up her embarassment, reminding us that reality TV does take it too far sometimes. Breaking the fourth wall, Becca walked out of the room, leaving Arie and the cameras behind to pack up her weekend bag. Arie's attempts to talk to her failed, with Becca wanting him to leave her alone.
Cue the much-teased audio of her crying in the bathroom. Just when I thought this couldn't get any worse, Arie returned inside, knocking on the door and asking if Becca was okay. I certainly didn't sign up for a half hour of watching Arie pointlessly follow a crying Becca around a rental house, and at this point, I would've been content to never see him on my TV again.
While Arie was clearly obsessed with a very dull-seeming Lauren throughout the season's second half, his relationship with Becca hit realistic rough patches before this moment, particularly when her ex appeared last week. In his PEOPLE blog about fantasy suite dates, Arie shared about Becca:
Being around Becca was always so easy. Though we hit some rough patches earlier, whenever we had time alone things were progressing. When we told each other that we loved each other, it felt like we had finally totally bridged the distance between us that had formed part-way thru the journey. I had so much hope for a potential future with her.
Had so much hope? Well, I guess the signs of what was to come were always there.
At this point, I wouldn't want to be in the place of either of the women, let alone Arie. We'll see how Becca reacts to reuniting with him on the live "After Final Rose" special tomorrow night. I'm personally crossing my fingers for Becca's BFF Caroline to verbally attack Arie from the audience.
"After the Final Rose" begins on Tuesday, March 6, at 8 p.m. ET on ABC.