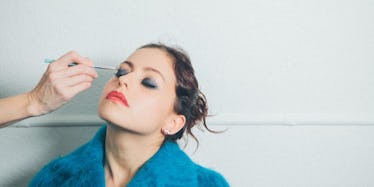 What Your Post-Breakup Makeover Should Be Based On The Kind Of Guy Your Ex Was
kkgas
So you just called things off with your shitty boyfriend, and it's time for a change. Thank God.
Big life changes like these are my favorite times to reinvent myself, and purge my life of anything that reminds me of my ex and his personal preferences or personality.
You know, like chopping off all my hair and burning his photos, for example.
What I'm getting at is, girl, it's time for a makeover.
By revamping your style, you'll be able to welcome some new energy into your life and boost your confidence while you're at it. Bonus? You won't be attracting the same type of guy over and over again.
Below are some awesome, creative and inspiring ideas to shake up your look, based on the kind of guy your ex was.
Ex Straight-Laced Traditionalist
Your New Look: Wild Child
If he values conservative women and traditional roles in a relationship, anything taboo, crazy or unexpected will do just to the trick to shake off his blah cobwebs.
Hair: Rainbow. Shaved. Dreadlocks. Basically, anything your stuffy grandparents would hate. Makeup: Add bold details like glitter, bright or dark hues, and pile on the piercings or fake tats. Clothes: Go for shock value. Show some unexpected skin or play with gender normative styles.
Ex Sloppy Slob's McGee
Your New Look: Business Dominatrix
He already made it clear that he can't handle living like an adult, and he certainly won't be able to handle you in this bold, grown up look.
Hair: Sleek and blunt! Makeup: Go for crisp lines like cat eyes and a bold red lip liner. Clothes: Opt for well-tailored pieces with a more business or formal vibe.
Ex Money Man
Your New Look: Hobo Chic
If his values lie in money and material items, it will drive him crazy to see you walking around without a financial concern in the whole world and loving life ANYWAY.
Hair: Bed head all the way. Makeup: NOTHING. Naked face, baby. Clothes: Anything that looks like it's been worn by hundreds of people before you. Think frayed, faded or distressed.
Ex Judge-y Hipster
Your New Look: Preppy Fab
Did your ex always bring you down for being basic? Yeah, me too. Give him the ol' F you and lean into those khakis, girl.
Hair: Classic ponytail. Makeup: Rosy cheeks, white teeth, minimal shadow and lipstick. Clothes: Prep, prep, prep. Think khakis, nautical stripes and sweaters or vests.
Ex Mama's Boy
Your New Look: Tween-tastic
If his thing was to lean on someone who is mature and always taking of him, fight the urge to nurture and youth-if-y yourself, girl. Baby Spice, here you come.
Hair: Pigtails or double buns. Makeup: Again, lots of glitter! Maybe blue eye shadow, anything that says "Baby Spice." Clothes: A T-shirt with your favorite kids television show, band or celebrity on it and a backpack that looks like a stuffed animal.
Ex Buff Gym Rat
Your New Look: Easy, Breezy, Comfortable and Intentionally Unflattering
It's safe to say there's a sense of vanity that comes with regular gym buffs. Show him how little you actually care about physical appearance (and him), and find yourself some comfortable clothing that has nothing to do with accentuating your physical assets.
Hair: Low pony or under a hat. Makeup: Smudged eyeliner. Clothes: Anything unflattering or shape-shifting.
Go on girl, go ahead get down.