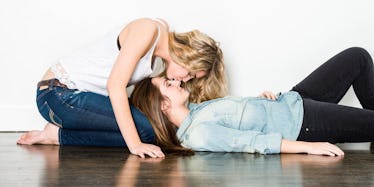 Lessons From 'The Bachelorette': Why Gen-Y Should Never Play It Safe
Stocksy
Like every season of "The Bachelor" and "The Bachelorette" before, my sisters and have I tuned in with intense commitment to watch this season's bachelorette, Andi Dorfman, find her dream man.
On Monday night, we sat there with popcorn and great anticipation, waiting for Andi to hand the final rose to 33-year-old Nick Viall. Only then, she didn't.
For those of you who didn't watch, Viall is an endearing, confident but somewhat timid guy, with a bit of a naughty edge.
Okay, so there were some definite red flags: None of the guys liked him (always a bad sign); there was an unmistakable "bad boy" side to him and some questionable genuineness; he constantly struggled to effectively communicate.
These things weren't deal-breakers, however. It was clear that most of these traits were amplified through clever production to drum up the entertainment edge -- aka reality television at its best.
To us, and most of America, it was reasonably obvious from the beginning. Nick and Andi had overwhelming and undeniable chemistry and she was so clearly falling for him. Then, on the final day, she simply decided that Nick was too great of a risk, and their relationship was too uncertain.
Just like that, she chose the "safe" guy, Josh Murray. Andi made the decision to go with her idea of her perfect guy, and she chose the easy, yet ordinary relationship and turned her back on the challenging and potentially miraculous one she could have had.
It got me thinking: Why are we so afraid to take this risk? Why are we so hesitant to dive deep into a passionate and an intense love affair in case we get our hearts broken?
The relationships I'm referring to are the ones that will either end in utter calamity or all-consuming, forever love. It's a huge risk to take, but doesn't the possibility of the hopeful outcome make it all worth it?
I mean, we all know what getting our heart broken feels like, and we're afraid to try again because we know how it ended last time.
The thing is, what is a relationship without the potential for heartbreak? If there isn't the possibility of getting your heart broken, you're obviously not that into this person anyway. Without this risk, what's the point? Safety is perpetually boring.
I get that my analysis of Andi's decision may seem like a slightly ignorant call to make from the outside, and that television producers can do wondrous things to make us think and believe certain things for the purpose of entertainment.
But I really hope for Andi's sake that myself, my sisters, the other viewers and Nick, who said himself she's playing it safe, have it entirely wrong. I hope she didn't just take the safe option in Josh and that she's actually madly in love with him because he does seem to be a really great guy.
I just have a feeling that's not the case. Falling in love with the idea of someone is not the same as falling in love with the actual person.
In theory, Josh checks all the boxes: He's the favorite amongst the men, the pleaser, the likeable and genuine character and the cheery personality.
They are all amazing qualities, but you can't argue with chemistry, instant lust or a connection that is simply unconditional because these qualities in a relationship are irrevocable.
So if you find yourself in a similar position, worried about taking a risk and totally afraid of heartbreak, you only need to ask yourself one question: Is this person worth taking a risk for?
If you can trust that he or she will do right by you and that he or she is a good person, then allow yourself to be honest about how you feel and follow those feelings. Just make sure this person is worth leaping for and if you truly believe he or she is, jump right in.
As hard as it is at the time, heartbreak is ultimately better than always wondering what might have been.
Photo Courtesy: ABC/The Bachelorette