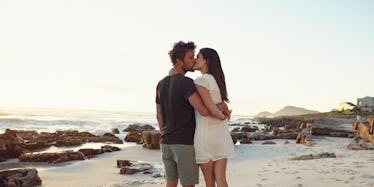 You Can't Fool Yourself: Acting Like You Don't Care Isn't Letting Go
It can be difficult to let go of certain things or to let go of certain individuals in your life. Our minds are funny that way.
Although we understand that, in theory, we have control over ourselves, our minds, our thoughts, etc., in practice, taking and exercising control proves much more difficult.
Sometimes it's a matter of quieting the mind enough to navigate through all the thoughts running loose, bouncing off each other, making clear focus and full control unlikely.
Sometimes it's about giving ourselves time to re-navigate our course in life and restructure our lifestyle – often it's the habits we're accustomed to that make change so incredibly difficult to achieve.
Other times still, what we're trying to let go of and forget has influenced our lives and the people we are today so greatly that letting go seems basically impossible.
The truth is, there are things in our lives we can't easily let go of. There are things and individuals we won't ever forget, nor – to be honest – should we forget.
Most importantly, you need to remember acting or pretending like you no longer care, like you are no longer somehow connected to that particular point or path in life, like you've moved on or forgotten isn't actually letting go.
You may be fooling the rest of the world, but you aren't fooling yourself.
Distractions can really only get you so far.
Whether we're talking breakup, career change, traumatizing event or any other life-changing experience, distracting yourself after the initial fallout does have its benefits.
It allows you to cap your emotions, giving you time to breathe – which can sometimes prove to be exactly what we need.
Taking your focus off the issue you're dealing with and focusing on other things going on in your life can make transitioning into a new life more seamless; however, distracting yourself can only take you so far; in fact, it's only good in the beginning.
Eventually, continuously distracting yourself will remove you from reality. Of course, this is the goal in the beginning, but continuously removing yourself from reality inevitably does even more harm.
Sooner or later, you're going to have to come to terms with your situation.
Likewise, it's important how we're distracting ourselves. People tend to make some of the worst decisions when trying to distract themselves from someone or something causing them emotional pain.
What we ought to be doing is our best to avoid such bad decisions, and instead force ourselves to focus on more positive things.
Acting like you don't care can actually make things a whole lot more difficult for you.
You can lie to the whole world, which is usually what pretending not to care starts off as, but you can't allow yourself to lie to you.
Everyone else in the world can – and likely will – lie to you at one point or another in your life – you have no control over that. You do, however, have control of how honest you are with yourself.
I can understand saving face, saving yourself from feeling embarrassed and from having people snoop around your business when it's none of their business.
What I can't understand is building a delusion for yourself. I want to say you aren't ever going to fool yourself, but the truth is that is exactly what may happen.
The human mind is incredibly powerful. So powerful in fact that sometimes the shifts in realities we experience, we don't even notice.
If you play a part for long enough, you may very well end up believing you actually are the person you're pretending to be. Until, however, reality comes crashing in – because it almost always inevitably does.
When that happens, you're going to have a difficult time finding yourself, once again figuring out who you are and – most importantly – what it is you want in life.
You've been acting so nonchalant for so long that you forgot where it is you actually stand.
Have you ever stopped and wondered why you feel the need to let go?
Obviously, you feel the need to let go because holding on is painful. We don't like pain because it makes us feel uncomfortable, and therefore, we want to do our best to avoid it.
At the same time, some things you simply can't, and never will, let go of. So what the hell are you to do then?
This is the point that, when most of us reach it, we begin to drown in the realization that we are never going to be able to let go and move on completely.
We will never let go entirely because we can never forget. So what are you supposed to do? Accept that you're going to be dealing with intense emotional distress for the rest of your life?
Not at all. You see, it's one thing to let go and forget and another to accept, learn from and move on. The former isn't always possible, while the latter is really the only wise and viable solution.
Some misfortunes, mistakes or people you will never fully let go of or forget, but this is a good thing. If we were to go through life forgetting all the pain we've experienced on our journey, we would never learn or make progress.
Instead, we'd keep making the same mistakes, never learning, never finding peace or happiness.
The most painful moments in our lives are not ones to be forgotten, to be let go of and left behind.
On the contrary, they are moments we should delve into, dissect and try to understand as best as possible.
If we made mistakes, we need to understand what mistakes we made and why we made them.
If things didn't work out for other reasons, we need to figure out what those reasons are. Trying or pretending to let go won't get you anywhere in life.
Being in denial of all that you've been through and experienced will only make the likelihood of you repeating the same mistakes much more likely.
Some things – and some people – you will never be able to fully let go of. Why? Because they changed you. They added their stroke with their paintbrushes, which added to the composition you are today.
Embrace it. Don't hide from it or ignore it. Accept it. Understand it. Learn from it. And grow from it.
For More Of His Thoughts And Ramblings, Follow Paul Hudson On Twitter And Facebook.