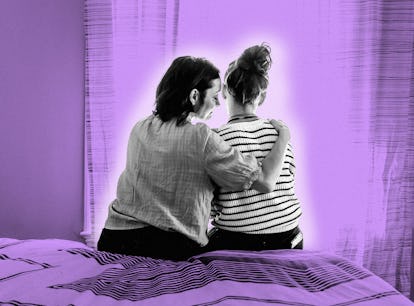 7 Tips For Discussing Your Abortion With Your Parents
Here's how to prepare yourself for this important conversation.
Elite Daily/Raymond Forbes LLC/Stocksy
When you discover you're pregnant, you have some decisions to make, starting with the choice between abortion, adoption, and parenthood. Maybe you're torn between options and would appreciate your parents' or guardians' point of view. Maybe you already know abortion is the right plan for you, but you want or need to talk to your folks anyway, whether it's because you're under 18 and live in a state that requires involvement from at least one parent or guardian (more on that below); or you have questions about health insurance, finances, or logistics; or you hope to lean on your family for support. Broaching this subject can be very difficult, but there are resources to help guide you through this conversation.
We spoke to Meredith Shirey, LMFT, about tips to keep in mind if you're preparing to talk to your parents or guardians about your need for an abortion or even about a past experience with the procedure. It's important to keep in mind that your folks are people with their own feelings and experiences, and this can be a sensitive subject for some. While there's no way to guarantee the talk will be stress-free, she says your approach and timing can make a difference.
Sources:
Dr. Kristin Neff, "Self-Compassion Guided Practices and Exercises"
"The Parasympathetic Nervous System Explained," Healthline