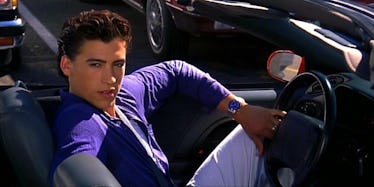 What Your Biggest '90s Heartthrob Crush Says About Your Dating Life Now
Buena Vista Pictures
"Throwback Thursday" is both a blessing and a curse.
I'm all about turning on the Ja Rule and Ashanti Pandora station and going through old party pictures from high school. I just don't like the part when I'm reminded that I never actually got to marry Freddie Prinze, Jr.
Buzzkill.
Seriously though, I'm convinced us '90s kids were #blessed with some of the dreamiest heartthrobs ever. Although it was hard to pick just one, we all had our favorite.
Here are some heartthrobs we loved back in the day, and let's see if we still hold the same "type" in our dating lives now:
Freddie Prinze, Jr. : You crave spontaneity.
From "She's All That" to "Scooby-Doo," Freddie Prinze, Jr.'s characters always required a chase. His characters were just the right amount of trouble and fun, but still had the ability to get the woman in the end.
There was never a dull moment with this guy. Although I'm still bitter about the fact that I couldn't call him mine, I can safely say him and Sarah Michelle Gellar will forever be #relationshipgoals.
Justin Timberlake: You go big or go home.
JT will forever be on the top of a lot of people's love lists, for obvious reasons. He's a singer, songwriter, dancer, actor, husband and father.
I could go on forever.
From his full-on denim red carpet looks to his films and tours in recent years, JT still wears the crown. With him as your favorite, you want the whole intense, passionate package and won't settle for anything less.
Will Smith: You need a goofball in your life.
While Will Smith has grown out of his Fresh Prince days, in the '90s he was known as the ultimate class clown in a good way. Guys like Will Smith have a heart of gold and will do anything to make his lady laugh. This quality makes his personality addicting.
Erik von Detten: You want a young soul.
From his skater boy "Brink!" days to "The Princess Diaries," this man will forever represent all things nostalgia related. Von Detten lovers will forever be kids at heart.
They look to date someone who isn't afraid to let his inner-teenager shine.
Jonathan Taylor Thomas: You want the good guy gone better.
If you watched "I'll Be Home For Christmas," you've watched JTT run square across the country in a Santa Claus suit just to get the girl. Today, both in recent roles and real-life, he still holds the "good guy" hat proudly on his head.
I mean, who doesn't want the guy who will always go the extra mile? Especially with those lips.
Mark-Paul Gosselaar: You strive for perfection.
In "Saved by the Bell," he was the guy all the girls wanted, and all the guys wanted to be. And reasonably so.
You know those people that everything just kind of falls into place perfectly for? That's what Gosselaar's life looks like, even in real life today.
Andrew Keegan: You like bad boys.
Although FPJ takes home the gold for me, Keegan is a close second. If your teenage fantasy wasn't getting to sneak around at a forbidden summer camp with Andrew Keegan like in "Camp Nowhere," I don't know what was wrong with you.
Today, although he's grown up, he still has that devious look in his eyes that some of us ladies will never get over.
John Stamos: You tend to go for older men.
Yes, he was the elder of the bunch, but once Nicky and Alex were born in "Full House," John Stamos set the ideal "DILF" expectations for us all.
So, if we were to include any non-'90s teenagers in here, it has to be him. There's no shame in fantasizing about older guys, especially if it's John Stamos.
Ben Savage: You want to be with your best friend.
Cory and Topanga from "Boy Meets World" proved that some of the best relationships start from friendships. They knew who each other was as a person before diving into the romantic side of things. Then they honored their commitment and looked adorable while doing it.
Cory's sweet, genuine charisma will forever represent all things some of us want in a partner and companion.
Who was your favorite '90s heartthrob and why? Let me know in the comments below.