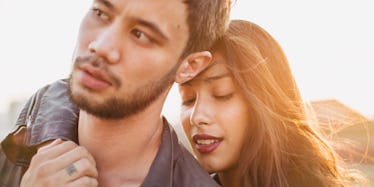 9 Signs You've Become The Jealous Girlfriend Type You Used To Judge
Take a seemingly normal and sane woman and pair her with a player. It's only a matter of time before she becomes a little unhinged.
The irony of this is that prior to said unhinging, other females, who sent 17 messages in a row to men they dated, were objects of formerly sane woman's conversational ridicule.
The fact of the matter is, every girl makes fun of other clingy girls — until she becomes one.
When it comes to relationships, some men bring out the best in us, and others bring out the absolute worst.
Whilst I don't like to place blame (as every relationship differs), I don't think it's entirely unfair to say that when a girl likes a guy who is sending mixed signals, it can often result in extreme and irrational female behavior.
Don't know what I'm talking about? Let's see if this rings a bell. Possible signs include:
1. Checking his WhatsApp more than 30 times a day to see if he's online.
Let's set the record straight: Just because you are dating someone and technology permits it does not mean you need to be in contact with each other every waking moment of the day.
If you both replied to each other's texts instantaneously, you'd have very little time for anything else.
Despite what you may believe, if a man doesn't reply to your text, his phone hasn't spontaneously started to reject your messages.
He didn't accidentally block your number and I'm pretty certain he didn't "reply but forget to press send." He got your text; he just can't reply right now, or simply doesn't want to.
Stop checking if he's online, as it's of no consequence whether or not he is. He will reply when he can talk.
2. You know every girl's username who has ever commented on one of his Instagram pictures.
And, you stalk them on a regular basis.
3. You're obsessed with which one of you has the "power" in the relationship.
You create imaginary plans on nights he wants to meet up so you're not "too available," and you take note, down to the minute, how long it takes for him to reply to your texts.
Then, you wait even longer to reply to his, so he doesn't think he's affecting you. After all, everyone knows the person who cares the least in a relationship is the one who has the power.
Whilst some girls think this is a dating norm, I think the "he took an hour to reply, so I'll take an hour and ten minutes" is an unhealthy start to any relationship.
In the world of dating, there's nothing wrong with replying when you're free, not based around any schedule.
4.You find yourself casually driving past his house to see if he's home.
Also known as level-one stalking. What do you intend to do if he sees you? Roll your window down and wave? I think not.
Reverse back into your drive and abort mission.
5. You regularly visit his friends' Facebook walls for any incriminating evidence from their last night out.
You contemplate adding them, in order to gain greater access to his life outside of you.
6. Every time he takes his phone to the toilet with him, you're convinced it's because he has something to hide.
It doesn't occur to you he may just want to scroll through his Instagram feed while on the toilet.
You make it your mission to manage some time alone with his phone so you can hunt for any incriminating evidence.
7. You've lied about an ex messaging you to make him jealous.
Because there's nothing like a bit of jealousy to bring the spark back into the relationship.
There is, of course, a more logical side of you that knows this is wrong, but that side is easily silenced. You tell yourself you need proof he cares and using a little white lie to get it isn't a big deal.
Not to play devil's advocate, but it's usually best to ignore the side of your brain that wants to use lies as a means of relationship progression.
It may start with a little fabrication about an ex, but where will it end? Probably with a false pregnancy scare and too many lies for you to keep track of.
8. You contemplate creating a fake Facebook profile of another woman with which to seduce him.
You know. Just to check and see if he'll remain faithful.
9. You spend hours analyzing things he says and does with your friends.
If I've learned anything from relationships, it's that when more than two people are involved, disasters ensue.
It's impossible for your friends to give you unbiased opinions because more often than not, your account of his actions alone is one-sided.
Not to mention, your friends only see a tiny portion of your relationship, so any advice they give you should be taken with a grain of salt and not be considered gospel.
Nothing fuels irrational female behavior like out-of-context advice from other females.
Though, since we're on the topic of advice, it won't do any harm to mention that if your relationship causes this level of irate behavior, there's a chance it may not be the right relationship for you.