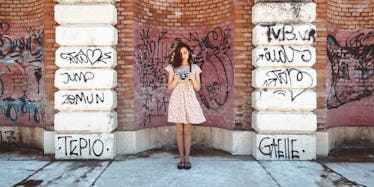 10 Different Ways To Spend Your Valentine's Day So It's Unique
Stocksy
Women love when men plan things. Planning, also known as "the P word," is such an aphrodisiac.
When men are thoughtful, it shows us they care, which is something we absolutely love.
Valentine's Day is a great way to show the people in your life you adore them. Yes, it's a Hallmark holiday, but it's a day dedicated to love and romance.
If you want an enthusiastic partner, send her chocolates, candy or flowers.
Whether she's a hopeful romantic, sentimental or thinks it's just a Hallmark holiday, she'll be so overjoyed.
Whether you're a part of a new couple, been dating for a while or happily married, here are eight unique date ideas to try this Valentine's Day.
1. Make a reservation … at home
Who needs a crowded restaurant when you can stay in and make a delicious meal in the comfort of your own home?
It's a good night to be creative. Plan a unique menu, bring out your fancy dishes, use a tablecloth, get wild with flowers and candles and pick up some good wine. Doesn't that sound nice? I sure think so!
2. Get spa'ed
Book a couples treatment at a spa for the evening. What could be better than getting pampered?
After 60 (or even 90 minutes) of massage heaven, you'll both be calm, stress-free and in the mood for some late-night fun.
3. Appreciate a little culture
If you're not into over-the-top romance, try something unusual this Valentine's Day. Channel your cultural self and explore something different.
There are always fabulous exhibits at different museums, or if an art gallery is more your speed, take in some art appreciation.
Bringing culture into your life can spark stimulating conversation.
4. Plan a game night
When was the last time you played a board game?
I bet it was a long time ago. Instead of getting all dolled up and going out, get comfy and stay in. Take your favorite board games out of storage, put on some PJs and have some good old-fashioned innocent fun!
5. Be a tourist
Almost all cities are famous for something. Use Valentine's Day as an excuse to do something touristy you wouldn't ordinarily do.
I've lived in New York my whole life and have never taken a horse and buggy ride. There are droves of activities specific for your city that can be unique and set the tone for some romance.
6. Sign up for a cooking class
A cooking class is a cool thing to do with your partner. Not only will you create something tasty together, but you'll also be able to use your newfound cooking skills to make dinner at home, too.
7. Check into a hotel
Spend the night in a hotel, even if it's near your home.
It's a sexy way to spice things up; you get to pack an overnight bag and have some quality alone time.
Even though it's only one night, it's something awesome to look forward to.
8. Take advantage of the cold
Take advantage of the cold weather and do something wintry. Embrace it and bring out your cute winter accessories.
Ice-skating is an out-of-the-box way to spend V-Day. It even allows for some innocent touching and handholding.
9. Cross something off the bucket list
If you have the mentality that life is short, now is the time to seize the day, or rather, the night! With "Fifty Shades of Grey" coming out on Valentine's Day, it's all everyone can talk about.
Find your inner sex goddess and do something you wouldn't ordinarily do.
10. Be a gracious host
Use the evening as an opportunity to entertain. Host a dinner party and make sure you're not exclusive, because that wouldn't be cool.
Invite couples and singles to the festivity; make it an evening open to everyone, regardless of relationship status.