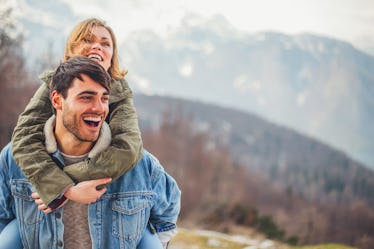 6 Places You Should Go If You're Vacationing With Your SO For The First Time
Studio Firma
You don't really know somebody until you've traveled with them. For young people especially, seeing the world with a new significant other is an unparalleled learning experience. You get to see a new part of the globe, and you get to learn new things about your partner.
Let's speak plainly: How you vacation reveals a lot about your character. Vacations can be fun, but they can also be a source of stress — and how your SO deals with that stress can be very instructive.
If you've decided to travel with your partner, the destination you decide on can make all the difference. Here are some ideas you may want to consider.
1. Aspen, Colorado.
For your first journey with your SO, you want to pick a place that will leave a picturesque memory in your mind. For this, look no further than Aspen, Colorado.
Aspen has a lot to offer. It's a stomping ground for the rich and the famous, it's breathtakingly beautiful, and it also offers world-class skiing and lodgings.
If you're not into hitting the slopes, you can take a trip to Glenwood Hot Springs, just 40 miles from Aspen proper. Wellness enthusiasts can spend some time soaking in a hot bath and generally getting shamelessly pampered.
2. Las Vegas, Nevada.
Let's face it: Las Vegas is a strange place! By all accounts, it shouldn't even exist — it's a preposterous, glittery mirage in a stretch of inhospitable desert. There's a relationship metaphor in there somewhere, but I'm not going near it!
The point is, Las Vegas has something for everyone. It has world-class cuisine, gambling as far as the eye can see, memorable live entertainment and music and luxurious lodgings. What's not to like?
What many visitors overlook, though, is the austere beauty of the surrounding countryside. Red Rock Canyon, to name just one landmark, is otherworldly in its beauty. It's perfect for people who love hiking. Make it extra memorable by packing a picnic lunch!
3. The Adirondacks, New York.
If you're a resident of the northeastern United States, you probably don't know the Adirondack mountain range. Adirondack Park is actually the largest park of its kind in the Lower 48 — it's even bigger than several states!
Perhaps the best thing about Adirondack Park is that it offers a chance for people of all body types and skill levels to get outdoors in some of the world's most beautiful countryside.
And when you're done with your day hike, you can relax in one of the beautiful log cabins dotted around the place, with a beer in one hand and a great novel in the other.
4. Iceland.
If you're feeling ambitious, Iceland is well worth considering for your first trip with your significant other. In addition to its above-average marks on the OECD Better Life Index, Iceland is home to some of the most arrestingly beautiful scenery in the world.
Glaciers, hot springs, volcanoes and even frequent sightings of the Northern Lights are not uncommon in Iceland.
In fact, the only thing difficult about sightseeing your way across Iceland is pronouncing some of the destination names! Reynisfjara Beach, for example, is a place of truly arresting beauty, while the Myrdalsjokull Glacier is a must-see for any outdoors enthusiast. Just don't ask me how to pronounce those places.
5. Costa Rica.
According to the Happy Planet Index, Costa Rica is the world's happiest country. What better way to celebrate a new love?
Part of what makes Costa Rica such a harmonious place to visit is its deep connection to the natural world. While you're there, be sure to visit Proyecto Asis, which offers a sanctuary for rescued animals and tours and feeding opportunities for visiting tourists.
If you're adventurous, you should check out Pura Aventura. You can zip-line across a tree canopy, or go horseback riding if you're more comfortable a bit closer to the ground. Wherever you decide to go in Costa Rica, it's sure to put a smile on your face!
6. Corpus Christi, Texas.
In my humble opinion, this is one of the southern United States' most under-appreciated coastal cities.
Commune with dolphins at the Texas State Aquarium, try your hand at wind surfing across the Gulf of Mexico and finish your day the right way with some great seafood and some live music.
If you and your SO are history buffs or a science nerds, there's always the Museum of Science and History and the USS Lexington, which offers a stroll through the American naval tradition.
Wherever you decide to go with your new SO, make it somewhere you'll never forget. If all goes well, these are memories you'll be reminiscing about for the rest of your lives.