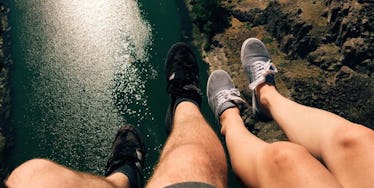 6 Non-Clichéd Date Ideas For The Couple Who's Down To Live Life On The Edge
There's something about summer that evokes a relentless sense of adventure in us all.
It's the season we've been passionately awaiting ever since the first day of winter began. We welcome all of the sunny feels with open arms, because summer is our number one #bae.
And for every couple out there who likes to live life on the wild side, especially in the summer, there are so many possibilities to put on your radar.
When you're craving to do something other than dinner and a movie (yet again), that means it's time to think outside of the box, and just have fun with it.
For the thrill-seekers of the world, here are six non-clichéd ideas that are anything but your typical date night.
Most of these could be fun first date options, too, if you're in the mood to switch things up with a new bae right off the bat.
1. Banana boating.
We're all about those *sun's out, buns out* vibes throughout the summer, right? Get your fill of the beautiful surf and sun at the beach as you and your babe work on your base glows.
Just make sure you don't lose your bikini bottoms if you fall off the banana boat. Real talk: This happened to me once #oops.
2. Adult camp.
For all of the forever young souls out there, can you think of anything better than cooling off on a water trampoline, crushing some beers at keg kickball, and going rock climbing?
Drink your way into the night at the silent disco, and curl up by the campfire with your honey.
3. Paintballing.
Show off your competitive side with your main squeeze by going paintballing. Even if you totally suck at it, you'll definitely share a ton of laughs together, and it'll be a great time no matter what.
Put your game face on, and may the best player win.
4. Zip lining and cliff jumping.
If you've always dreamed of crossing these gems off your bucket list, what better time than the present with your SO? Go for a hike to the top of the cliff, then embrace your love at new heights.
And if you're low-key scared AF while bae is casually all about it, squeeze his hand tight, take a deep breath, and cherish the moment.
5. Hit up the track for a car race.
Get the popcorn and adrenaline going at a car or dirt bike race. Or, if you want to be in the driver's seat, you and bae can sign up to race cars (like the *super sexy* Nissan GT-R) at Thompson Speedway.
Vroom vroom.
6. Go-karting
Hit up the nearest go-karting spot and show your boo what you got. Some tracks have several different courses to choose from, so you can really make a whole day out of it.
The two of you will definitely work up an appetite, so go grab a bite after you're done -- loser's treat.