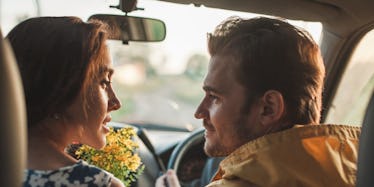 4 Signs You Might Break Up, As Told By Your First Vacation Together
One of the ultimate steps you take with your partner in a relationship is making the big decision to finally travel together. Whether you're traveling by air, land or sea, your destination isn't always as crucial as long as you're together, right?
Traveling with any person helps you learn more about their habits, interests, spending and everything in between that can be a cherry on the sundae of why you love them -- or be the sun that starts melting the entire mountain that is your relationship.
When you go on vacation with your partner, you want adventure, fun, relaxation and maybe some education, depending on what you're into. But what happens when they exhibit signs that are pointing toward the end zone versus a touchdown?
If you experience any of the following combination of factors when you take your first vacation together, chances are it may just be your last:
They aren't open to trying new food:
If you're a foodie like me, being in a different city or country is the opportunity to try foods specific to that area or culture of people. When you are home with your significant other, the decision between McDonald's and Burger King can be a fun tug of war, but if you are on vacation, it's the last thing you want to do.
Being open minded is crucial when on vacation. Whether you're eating in a hut or a five-star restaurant, you want to explore your options and choices without feeling boxed in by someone else's fear of the unknown.
Getting along with your friends pretty much failed:
Traveling together is one thing, but traveling in a group or with some of your closest friends is a different endeavor altogether. You and your partner can both feel the added pressure of hoping the mixture of your circles will go smoothly, but if it doesn't, the trip becomes extremely stressful.
Most people can agree that your significant other and friends don't have to always be besties, but they need to be able to respect each other and mingle in social settings. If your vacation pairing with friends didn't go as planned, it could make you really question the future of your relationship.
Sharing music isn't their forte:
In the era of Apple phones, iTunes and Tidal, streaming music is much easier, accessible and varied than the days we were just limited to radio play and CDs.
For most people, having a good mix of music sets the tone for your vacation because it fills the void between silences and long stretches of road or air. While listening to music can be solitary endeavor, in a group setting you have to be flexible to other people's music choices.
If you have a driver or partner who is only concerned with his or herself, it can be a turn-off and precursor for a selfish mentality you never knew existed. Sharing is caring.
Road tripping was more of a prison than paradise:
For those of us who travel by car to our destination, whether it's five hours or five days, we can all agree that the car can be confining at times. If road tripping is your desire than you will learn more about your partner than ever from how they drive, carry conversation, play games and engage with you in the car. If you walk away from that car ride cringing at the thought of spending any more time together, then chances are either you can't road trip or take a trip.
The key thing to remember when vacationing with your partner is that a vacation is to learn, explore, grow and strengthen your relationship while enjoying yourselves. A vacation can be stressful and may not always go as planned, but how you deal with bumps, twists and turns can help you determine if this person is somebody worth being with.
No relationship is perfect, but vacations can sometimes reveal more truth about your partner and the prospective future you have together or won't.