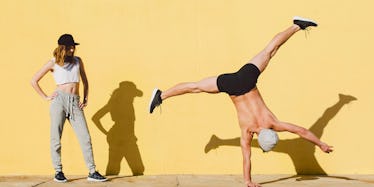 10 Active Date Ideas For You And Your SO That Don't Involve A Workout Class
What initially attracted me to my husband was his insatiable need to be outdoors, whether that meant long-boarding, exploring, or simply tossing a football around.
I had pigeonholed myself into thinking the best and most optimal way to get fit was to be in the gym lifting weights and squatting heavy, but he proved me wrong
There's nothing sexier than getting active with your significant other, and mine has definitely opened my eyes to fitness outside those dull, sweaty walls.
Partnering up through physical activity is healthy, sparks endurance, and offers you the chance to play with something other than electronics.
Here are 10 fun, active date ideas to inspire you and your person to get out and get moving.
1. Hiking
If your idea of a romantic evening is a nighttime stroll, hiking is an excellent daytime alternative.
Mix things up by locating a new trail in your area every weekend, so the two of you can experience nature in its multiple forms together.
Create a scavenger hunt by making a list of animals and plants to check off as you go, or find out who took the best scenic pic by posting your faves to Instagram.
2. Playing Tennis
Grab a few racquets and hit the court for a game of one-on-one.
If you're new to the activity, no worries -- it's pretty easy to get the hang of tennis, and when you get really good (or, at least decent), invite your BFF and her SO to play doubles for some serious competition.
3. Yoga
I downward-dog-dare you to challenge your SO to a yoga competition.
Do some research, and write out 10 to 15 of the craziest poses you can find.
Test them out for yourselves, and keep score. Whoever has the best form overall gets to pick dinner that night.
4. White Water Rafting
If you're feeling adventurous and don't mind spending the extra cash, hopping into a raft and trusting your SO and your own life with a bunch of strangers is a thrill unlike any other.
Get a little wet and wild, starting with baby rapids before you work your way up to rougher waters and falls.
Trust me, surviving this activity will bring the two of you so much closer together.
5. Ice Skating
If you share a mutual hatred for summer heat, get out of the sun and into an indoor skating rink.
Don't worry if you're no Tara Lipinski; the whole fun of ice skating as an adult is the silliness of clinging to the wall with one hand, holding onto your SO with the other, and watching 4-year-old naturals glide past on their way to pirouetting in the middle of the rink.
Laugh, fall, and afterwards, treat yourselves to frozen hot chocolate to get the best out of both seasons.
6. Fishing
I once fished in a lake by my aunt's house with nothing but string tied to a stick, and corn for bait. For real, you can literally do anything you put your mind to.
You can go about this date in one of two ways: head out to the nearest body of water and get creative with the resources at hand like I did, or rent some legit gear and learn the trade.
7. Biking
When it's not too hot outside, biking is a great way to get the blood pumping and your legs moving.
Take a leisurely ride to enjoy the scenery, or get competitive and race your SO from one side of the park to the other.
Feel free to make it as competitive or as relaxing as you prefer.
8. Dancing
If your SO likes to dance, consider yourself lucky.
Pick a hot spot and get all dressed up to get down on the dance floor. Music always heightens the mood of any room, and you'll both feed off each other's energy, as well as that of the crowds.
If clubbing isn't your scene, create a playlist and bust a move in the comfort of your own home.
Make it a little more interesting and assign a different genre per room: salsa in the kitchen, waltz in the dining room, freestyle in the bedroom (wink, wink).
9. Playing Laser Tag
This is one of my favorite childhood pastimes that I return to whenever I get the chance
And, I know it sounds ridiculous, but laser tag can get hella competitive, especially with your SO.
Amp up the competition by requesting to be on different teams, and target one another throughout the game.
Running around in the dark to catch one another? Part silly, part sexy.
10. Running A 5K Marathon
With so many themed races hosted all around the country, running a 5K has never been so much fun.
Look into events that pique your personal interests, like Color Me Rad for artsy types, Tough Mudder or Warrior Dash if you're seeking an adrenaline rush, or Craft Brew Races for beer drinkers.
Whatever you're into, there's a race for that.