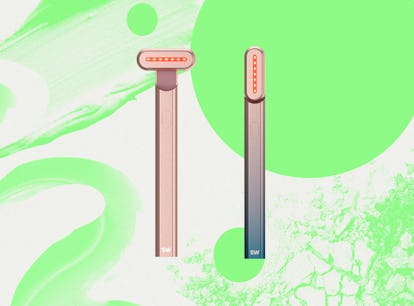 I Reviewed Solawave's Red Light Therapy Wand & The Glow Is *Real*
It's beloved by stars like Megan Fox, Sydney Sweeney, and even Daddy Pedro Pascal.
Elite Daily; Solawave
We may receive a portion of sales if you purchase a product through a link in this article.
You know all those times celebs promote products that just do NOT deliver? This isn't one of those moments. As recently as the 2023 Oscars, celeb stylists for the likes of Pedro Pascal and Vanessa Hudgens have been using the TikTok-viral Solawave skin care wand to help get their clients' faces red carpet ready in minutes. So, I put it to the test and reviewed Solawave's 4-in-1 Skincare Wand with Red Light Therapy to see 1. whether it's worthy of the spotlight, and 2. how it looks on an everyday, non-famous person.
Some of Hollywood's top MUAs have sworn by Solawave, as it's meant to reduce the appearance of wrinkles, fine lines, blemishes, and dark circles. And with stars like Megan Fox, Emma Chamberlain, Sydney Sweeney, Jennifer Coolidge, Reese Witherspoon, Lil Nas X, and more faves showing their support, I had high hopes going in. Now that I'm on the other end of my two-week review, I'm using Sweeney's Euphoria character's own words: "I have never ever been happier" — with my skin.
BDG product reviews and recommendations are written and conducted by writers and editors with expertise in their fields. Testers often have specific experience with the situation or product at hand, and/or their review or recommendation is provided in consultation with experts. You can learn more about our standards here.
Fast Facts:
Price: This facial tool is a whopping $149 on the official Solawave website (currently $92 on Amazon), but after testing it out for two straight weeks and seeing visible results, I'd say it's a pretty reasonable price for the technology.
Who this is best for: Anyone who wants to get rid of their fine lines and blemishes, and see an increase in elasticity and glow. So, basically everyone.
What I like: The wand is super user-friendly and has since become part of my daily routine. I multitask and listen to an e-book while using the device.
What I don't like: I wish it came in more colors (I prefer white), but that's entirely a ME problem and has nothing to do with the results.
My rating: 4.5 out of 5.
My Skin:
I have somewhat acne-prone skin that rarely sees the light of day. (No sun damage here.) The skin around my nose tends to get pretty textured, but with regular exfoliating, I've been able to keep it at a minimum. I'll occasionally get blackheads and whiteheads, and I'm also dealing with some hormonal acne at the moment, which has decided to make its presence known on my chin and around my nose.
Solawave 4-in-1 Skincare Wand With Red Light Therapy:
At first, you'll probably notice the "4-in-1" in the name — what does that mean, exactly? Well, the wand promises to do four things: red light therapy, microcurrent therapy, facial massage, and therapeutic warmth.
The Science:
To fully understand the effects of the skin care wand, I enlisted Dr. Michelle Henry, a board-certified dermatologist and founder of Skin & Aesthetic Surgery of Manhattan, to provide some expert insight on red light therapy as a whole:
"Red light therapy has several known benefits for the skin, including promoting collagen production, improving skin texture and tone, reducing inflammation, and increasing circulation. It may also be beneficial for reducing the appearance of fine lines and wrinkles, minimizing the appearance of scars and stretch marks, and improving overall skin health."
As for the second of the four intended purposes, Henry shares:
"Microcurrent therapy has several known benefits for the skin, including toning and firming the facial muscles, reducing the appearance of fine lines and wrinkles, improving circulation and lymphatic drainage, and enhancing the overall health and appearance of the skin."
As a big believer in the effects of lymphatic drainage, I paid specific attention to that while using the wand over the last two weeks. I typically use a gua sha, but in order to really see what the wand could do, I skipped the smooth-edged tool all together. And you know what? My skin looked like it was freshly gua sha-ed every time I used the device.
The Packaging:
This baby is sleek. Available in rose gold, matte black, and lilac, the Solawave is not only super light and durable, but also aesthetically pleasing. In addition to the device itself, you get a power cord and a travel case, which is handy for those who are always on the go.
First Impression:
The first night I used the Solawave 4-in-1 Skincare Wand with Red Light Therapy, the only difference I noticed was the feel of my skin. After all, I was penetrating a serum into my skin with red light and microcurrent therapy for five minutes straight. I also felt the effects of the promised facial massage and therapeutic warmth, as the device felt deliciously warm against my skin. I wasn't expecting to see any other changes in my skin after one session, and at that point, I was really looking forward to seeing how my skin looked in two weeks' time.
How To Apply:
First, I applied an occlusive to my skin. (You could use Solawave's Renew Complex Activating Serum ($32) or your favorite moisturizer.) After lathering it onto my face, I grabbed the fully charged device and moved it across my skin for five to eight minutes in upward and outward motions, except for the neck area, which should be applied in a downward angle.
The best way to use the device is to take it slow, and gently move it up and away from your face. For my cheeks, I would start at the center of my face, and slowly drag it out to the side. For my forehead, I would start above my brow bone and lift it up. And for my neck, I would start at my jaw and bring it down. I went over each area roughly five times in any given session, and after the five to eight minutes were up, my skin always felt smooth AF. (Cue BTS' "Butter.")
The Results:
I used the Solawave wand every day for two weeks in five- to eight-minute sessions, and quite honestly, my skin has never looked better. I'm currently dealing with some hormonal acne, and the device absolutely helped with blemishes and even seemed to prevent possible scarring. My skin tone also seems to have evened out, which I am all too happy about.
Similar Products:
There are tons of red light and microcurrent therapy devices on the market, but there are only two that really stand out to me. First is the TheraFace Pro, which offers a bit more than the Solawave (at a much heftier price). The TheraFace Pro uses red and blue light therapy, in addition to attachments that utilize microcurrent therapy and even a cleansing ring, which removes pore-blocking debris like dead skin cells.
Another product that's pretty similar to the Solawave is the LUCE 4T Therapy Microcurrent Wand, priced at $99. This also offers four therapies: microcurrent therapy, red light therapy, heat therapy, and low-frequency vibrations. It seems like it might be even be a direct dupe for the Solawave, but I have not personally tested it out... yet.
Worth It?
If you're willing to splurge on a skin care device, I'd say to go for it. The Solawave 4-in-1 Skincare Wand with Red Light Therapy absolutely delivers on its promises, and if you're looking to tighten your skin, smooth fine lines, and provide your skin with an out-of-this-world glow, why wouldn't you buy it?
Final Verdict:
It's good enough for Emma Chamberlain, and it's good enough for me. I've only been using the device for two weeks, and can only imagine the changes I'll see after using it for a longer period of time. The Solawave wand has quickly become my favorite part of my nighttime skin care routine, and I plan on using it for the foreseeable future.
About Me:
I've been a beauty writer for five years and have tested out all of the latest innovations in skin care therapies and devices. I'll rarely give a product five stars across the board (it really has to wow me), so if something makes a lasting impression on me, you should definitely look into the product for yourself.
Expert cited:
Dr. Michelle Henry, a board-certified dermatologist and founder of Skin & Aesthetic Surgery of Manhattan