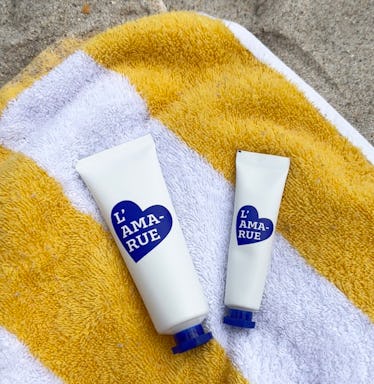 Deal Alert: Here's How To Save 20% On Clean Beauty Over Memorial Day Weekend
Simple, fuss-free products are the name of this brand's game.
L'AMARUE
We may receive a portion of sales if you purchase a product through a link in this article.
Want to simplify your skin care routine to its most essential, effective basics? Mother/daughter-founded beauty brand, L'AMARUE, aims to help you do just that. The new(ish) clean beauty brand makes super simple, do-it-all products designed for all skin types, with clear, fuss-free names like The Balm, The Face Cream, and The Body Cream. And this weekend only, you can get 20% off sitewide for Memorial Day, so there's never been a better time to try out their products.
L'AMARUE was founded by mother and daughter duo Nicole and Ande in 2019. While researching the role of inflammation in chronic health issues like endometriosis, the pair came across the naturally occurring compound diindolylmethane 3'3 (aka DIM), which occurs in cruciferous veggies like broccoli and cauliflower. After witnessing the anti-inflammatory compound's positive effects on conditions like rosacea, acne, and keratosis pilaris, DIM became the key ingredient in the brand's Heart to Heart Complex, which they use in all their formulations.
That bioactive complex is what makes L'AMARUE's products so effective for a wide range of skin care concerns, from eczema and psoriasis to acne and run-of-the-mill dryness. Instead of overloading consumers with a slew of serums, treatments, and masks, L'AMARUE makes just a handful of multitasking products that are straightforward and simple to use.
All of L'AMARUE's products are formulated with clean ingredients that meet the EU's exacting standards, along with hero ingredients like hyaluronic acid, squalane, probiotics, vitamin C, and other potent antioxidants. Read on to learn more about their most popular products, and save 20% now through June 5 with promo code MDW20.
The Balm
Recently available in a highly requested jumbo size, L'AMARUE's best-selling balm is a multitasking skin saver. The vegan balm is great for slugging, repairing chapped lips, and restoring moisture to dry elbows, cuticles, and heels. It's also great for healing skin concerns like scrapes and cold sores, and for managing conditions like eczema, dermatitis, psoriasis, and even cradle cap. The balm contains softening and conditioning vitamin E, avocado oil, coconut oil, and omega fatty acids, along with regenerative antioxidants like horse chestnut seed extract. It's also formulated with hyaluronic acid and squalane for additional hydration, and the non-greasy formula creates an invisible shield between your skin and potential environmental aggressors to help keep it healthy and strong.
The Face Cream
L'AMARUE's Face Cream is a one-step barrier-protecting, skin-calming moisturizer meant to be used both morning and night. The cream uses uses squalane to quench dry skin, coconut oil for its nourishing benefits, and rosemary extract, which is both an antioxidant and anti-inflammatory, as well as the brand's signature Heart to Heart Complex to help balance oil production and preserve your skin's microbiome. The cream is rich and emollient without being greasy, and a little goes a long way — just a pea-sized amount should cover your whole face.
The Eye Cream
The Eye Cream is a rich, non-heavy under-eye moisturizer that targets puffiness and dehydration. Made with squalane, hyaluronic acid, and glycerin for maximum moisture, it also contains vitamin C, horse chestnut seed extract, and caffeine to help soothe, depuff, and invigorate tired skin. Along with calming and conditioning one of the most delicate areas of your face, The Eye Cream is great at not settling into lines, making it a great primer to help your under-eye concealer stay smooth.
The Body Cream
L'AMARUE calls its body cream a "first-aid butter" that leaves your skin super moisturized while also protecting against environmental aggressors and irritation. Its hyaluronic acid and coconut oil make it super hydrating, while antioxidants like sweet almond oil help reduce the appearance of unwanted hyperpigmentation. Plus, caffeine helps boost circulation and reduce inflammation. While The Body Cream is perfect for everyday concerns like dryness, dullness, and hyperpigmentation, it's also designed to help with a number of conditions like body acne, KP, and psoriasis.
This article was originally published on