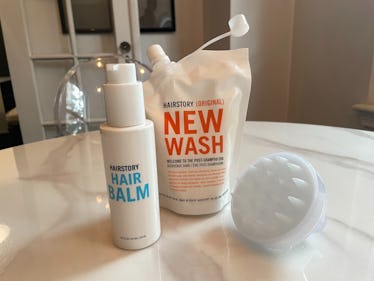 Instagram's Obsessed With This Low-Maintenance "Cleansing Cream" — Here's Why
Let's see what all the hype is about.
We may receive a portion of sales if you purchase a product through a link in this article.
When I tell people that I'm low-maintenance with my hair, they tend to laugh in my face. Indeed, my double-processed blonde would suggest otherwise. And it's true that maintaining a full head of Baby Spice hair is a part-time job in and of itself, but I tend to leave it at that — pure maintenance. Other than a marathon visit to my hair stylist every eight weeks, my routine consists of a twice-weekly hair wash with a purple shampoo and mask or a leave-in treatment, an air dry, a smoothing serum, and that's me done.
My seemingly contradictory attitude toward hair actually makes me a prime candidate for Hairstory, a buzzy new brand that holds simplicity as its core value: New Wash Original, the brand's hero product, is intended to replace both shampoo and conditioner for a one-and-done upkeep process that cleanses, softens, and protects your color in one fell swoop.
The Hairstory Claim
New Wash Original is a "cleansing cream" that's neither a shampoo nor a conditioner, but a little bit of both — it uses essential oils and fatty acids to remove grease and build-up, infuse your hair with moisture, and prevent color fade. That's intended to be used with the brand's scalp brush, which both massages your scalp and evenly distributes product, then followed up with Hair Balm to smooth and define air-dried hair. According to the brand, these are the only products you need for shiny, healthy hair, no matter what hair type you have.
That's mostly down to the formulas, which are made without harsh detergents, sulfates, parabens, and silicones that can potentially dry your hair of its natural oils, strip your color, and create build-up that contributes to dullness. (It's also worth noting that the brand is cruelty-free.)
Among other claims, Hairstory believes that regularly using their detergent-free products can rebalance the oils in your scalp, thereby reducing the amount of time required between washes; prevent unwanted frizz; reduce dandruff and general itchiness; and restore volume and shine.
A Closer Look At The Ingredients
Even though what's not in Hairstory products is arguably more important than what's in them, I was nevertheless impressed by the ingredients line-up.
In lieu of detergents, New Wash Original utilizes natural ingredients like peppermint oil, jojoba oil, aloe, and evening primrose oil as cleansing agents, which also work to moisturize and soften. Conditioners include a few vegetable-derived silicone alternatives and horsetail extract. I was also happy to see keratin, hydrolyzed keratin, and panthenol listed, which all help to repair damaged strands — a must for color-treated hair like mine.
Headlining ingredients for the Hair Balm include hydrolyzed vegetable protein, hydrolyzed soy protein, glycerin, and cetyl alcohol, all identifiable for offering smoothness and hold.
If you're contending with a specific issue that you'd like to remedy — like dryness, oiliness, dullness, or a lack of volume — the Hairstory method could be right for you. If its claims are true, then using New Wash can reset and rebalance your scalp to create an overall healthier environment for hair growth, literally targeting the root of the issue. Just be aware that according to the brand you may experience a "transition period", during which your hair adjusts to its new cleansing regime; according to Hairstory, it can take two to three washes for the formula to reap results.
What Customers Are Saying About Hairstory
Lots of customers came to Hairstory after seeing ads on social media and a lot of them are saying it lives up to the hype — the New Wash Original, Balm & Brush Set currently boasts a 4.5-star rating after close to 7,500 customers have weighed in. Here's a glimpse at what shoppers are saying:
"Love the feel of my hair after a wash - soft and clean. Used to get itchy scalp day after a hair wash which I don't have anymore"
"I wasn't sure what to expect from this shampoo. Now I am [...] pleased with the results. I have noticed much less hair coming out when shampooing and my hair is actually beginning to feel thicker. I was truly shocked because I have been using another organic shampoo, but this shampoo really works."
"This is hands down the best way I've tried to wash my hair. My hair is not greasy as fast, has a nice wave to it (usually a lot of fine hair that is really flat), and I like how it detangles after leaving it on for a 3 minutes while I do the rest of my shower things. Customer for life."
"Absolutely love this! I thought it would take weeks to transition but there was NO period of time my hair was greasy or had build up. My curls are more hydrated than ever and I can still go 5-7 days between washes. Will be repurchasing over and over."
Shop More Hairstory Products
From more intensive New Wash formulas to styling products and money-saving bundles, Hairstory promises to deliver healthier hair using minimal products.
This article was originally published on