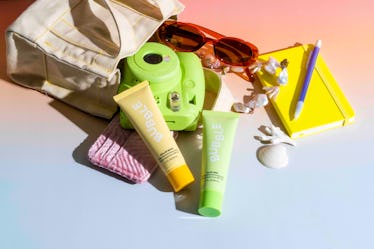 2 Buzzy New Sunscreens Worth Adding To Your Summer SPF Rotation
And they cost less than $20 a pop.
Bubble Skincare
We may receive a portion of sales if you purchase a product through a link in this article.
As essential as sunscreen is (and as much as I wouldn't dream of leaving my apartment without it), I can admit that it's also pretty hard to find a formula that you actually want to use. Growing up, I hated how heavy and greasy sunscreen felt on my skin, and even though I'm naturally pale, it somehow still managed to leave a white cast behind. And while sunscreen formulas have come a long way since my early days on the beach, these are still some of the most common complaints. Not to mention that the sunscreens that really knock it out of the park in terms of pairing broad-spectrum sun protection with a luxurious formula come with the price tag to match — a splurge that's not always practical when you're applying the recommended 1 ounce of sunscreen to your body and half teaspoon to your face on a daily basis. That's why Bubble Skincare spent the past three years developing two elegantly formulated and affordable sunscreens to add to its dermatologist-developed line of products.
Available in a completely invisible finish (Solar Mate) and a tinted option (Plus One), both sunscreens offer broad-spectrum SPF 40 protection thanks to the mineral sun blocker zinc oxide, which creates a protective barrier on the skin that reflects UVA and UVB rays. Both formulas are also noncomedogenic, meaning they won't contribute to acne-causing clogged pores, and perhaps best of all, they're only $19 each. If you're looking for a new sunscreen this summer, I put both of Bubble's new launches to the test — and as it turns out, they're both solid options for anyone who is particular about their SPF.
Bubble Skincare Solar Mate Invisible Daily Mineral Sunscreen
For a sunscreen that's virtually undetectable once you rub it into your skin, there's the Solar Mate Daily Mineral Sunscreen. Zinc oxide provides broad-spectrum protection from the sun, as well as protection from potentially damaging blue light exposure that's emitted by everything from smartphones and laptops to fluorescent lighting. Despite the mineral formula, the sunscreen has a lightweight texture and a completely clear finish on the skin (with very minimal effort required to blend it in). And in addition to being noncomedogenic, Solar Mate has a slight mattifying effect, so you don't have to worry about any greasy finish.
Bubble says that you can apply this after your moisturizer, but I found it to be moisturizing enough on its own that I could apply it right after cleansing and then carry on with my makeup routine (full disclosure, I do have oily skin). Ingredients like glycerin and cocoa seed extract no doubt contribute to the smooth finish of the sunscreen, which also provides a nice base for makeup that doesn't turn streaky or pill. And you'll get even more antioxidant protection from raspberry seed oil and ginseng extract, with the latter ingredient also helping to brighten hyperpigmentation.
Bubble Skincare Plus One Tinted Daily Mineral Sunscreen
At first glance out of the tube, the tint of this Plus One sunscreen had me nervous because it looked way too dark for my pale skin tone. But it turns out, it wasn't an issue at all. The sunscreen is a true tinted formula that diffuses as you blend it into your skin, leaving behind a barely-there bronze that you could just as easily use as a base for your makeup as you could wear it on its own for that your-skin-but-better look. This gives you a slightly glowy finish without any shimmer or slick greasy feeling, but like Solar Mate, it's still a mineral formula that's noncomedogenic. For drier skin types, I found this sunscreen to be slightly more moisturizing than Solar Mate, thanks to ingredients like glycerin, cupuacu seed butter, and vitamin E. And you also get more antioxidant protection against UV rays and pollution thanks to fruit extracts like lingonberry, pomegranate, and raspberry seed oil.
Final Verdict
I'll be adding both of these sunscreens into my summer rotation, with the Solar Mate being my SPF of choice for daily use and the tinted Plus One reserved for the occasional makeup-free day or poolside lounging. I personally prefer mineral sunscreens like these because I have sensitive skin and physical SPFs tend to be less irritating, and I also require something that's noncomedogenic since my skin is prone to breakouts in the sweatier summer months. The pump applicator is another plus in my book because it guarantees the sunscreen won't leak in your beach bag or come gushing out of the tube when you try to use it (a personal pet peeve of mine that not only creates a mess but wastes precious product).
My only complaints are that neither the Solar Mate nor Plus One formula is water-resistant, so if you're swimming or sweating (which at some point in the summer, we're all sweating), you'll need to immediately reapply or double up with something that is water-resistant. And even though both formulas are free from synthetic fragrance, I found that the Solar Mate sunscreen has a slightly off-putting scent when you first apply it (though it did dissipate as soon as I started massaging it into my skin).
This article was originally published on