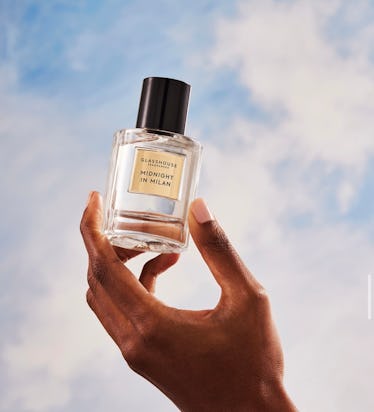 Fragrance Layering Is The Key To Smelling Rich
Über-luxe packaging + unique, travel-inspired scents have put this fragrance house on the map.
Glasshouse Fragrances,
We may receive a portion of sales if you purchase a product through a link in this article.
If makeup and hairstyling are tools for self-expression, then consider fragrance the beauty thread that ties a look together. Glasshouse Fragrances makes that finishing touch more customizable with its line of handcrafted scents designed to be combined so that you can create a longer-lasting fragrance or one that's entirely new (and unique to you). The luxury fragrance brand's range includes home scents, like candles and diffusers, and bath and body products, like lotions and perfume sprays. Developed by a team of international perfumers, the products cover fragrance families to suit every preference, including lighter floral and citrus blends as well as more intense sweet and woodsy collections.
How Fragrance Layering Works
You can, of course, use any of Glasshouse Fragrances' products on its own, but at the heart of the brand is the ability for the wearer to create their own unique scent. Because of this, Glasshouse Fragrances encourages you to adopt a fragrance layering technique by either combining products in the same fragrance family to make your scent last longer or by cocktailing your own signature scent with a combination of the perfume sprays.
If your primary concern is finding a fragrance with real staying power, layering on your go-to scent via various vehicles will help it last longer. Ideally, you should start your fragrance layering in the shower with a body wash, and follow up post-shower with a body lotion in the same scent. Then, finish up with your third and final layer: perfume.
You can also use fragrance layering as a way to dream up your own creation. Naturally, this requires a bit of experimenting to get it just right, but Glasshouse Fragrances shares that it's best for beginners to layer just two fragrances (three, max). Rather than pick any two fragrances you like, you'll want to check the top, middle, and bottom notes of each scent to make sure that the pair you're combining share at least one note in common.
The Products To Help Get You Started
Whether you're looking to experiment with layering scents for your own bespoke fragrance or you prefer to keep it simple with a classic eau de parfum, here are some of the Glasshouse Fragrances' best-sellers.
Midnight In Milan Eau de Parfum
One of the brand's most popular perfumes, Midnight In Milan falls under the chypre fragrance family, which features a complex scent that mixes softer notes like rose and jasmine with an earthy, creamy combo of saffron, amber, and musk. Pictured here in the full-size 3.4 oz. bottle, you can also try it out in a smaller 1.7-ounce bottle and a 0.47-ounce mini size.
Kyoto In Bloom Eau de Parfum
White florals like camellia and lotus are mixed with creamy vanilla and sandalwood notes to create a more complex floral scent inspired by Kyoto's cherry blossom season in the spring. The mini spritzer can be used on its own, but the Kyoto In Bloom fragrance is also available in a shower gel and body lotion duo for fragrance layering.
Forever Florence Body Duo Gift Set
Featuring a powdery floral scent with notes of jasmine, peony-rose, and pear, the Forever Florence Body Duo Gift Set contains the first two steps of your fragrance layering process. Both formulas were designed to nourish the skin as they leave it lightly fragranced, thanks to moisturizing ingredients like shea butter, rosehip seed oil, and coconut oil.
Montego Bay Rhythm Body Bar
If you prefer a long-lasting bar soap over a body wash, the Montego Bay Rhythm Body Bar is a bestseller for its Caribbean-inspired scent that pairs sweet coconut and vanilla notes with citrus lime and mandarin orange. Formulated to work into a rich lather, the soap will leave skin baby-soft with its sweet almond oil, shea butter, and vitamin E blend.
A Tahaa Affair Triple Scented Candle
Candles were the first product created by Glasshouse Fragrances when the brand launched in 2005 (and they still make up nearly half of the best-selling products). For a sweet scent that has enough fragrance throw to fill the whole room, there's the A Tahaa Affair Triple Scented Candle. Using vanilla bean and caramel as its base notes, the candle is inspired by the South Pacific island of Tahaa, which is known for its vanilla farms and has even been dubbed "The Vanilla Island." Beachier notes of pineapple and coconut, as well as earthy frankincense, have also been included to round out the candle, which is made from non-toxic soy wax that's hand poured.
This article was originally published on