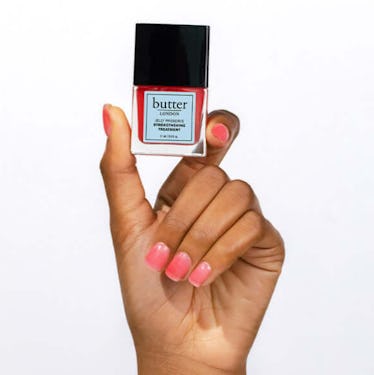 Jelly Nails Are This Summer's Hottest Manicure Trend — & Here's How To Do It At Home
It's like lip gloss for your nails.
Butter London
We may receive a portion of sales if you purchase a product through a link in this article.
When it comes to nail trends, advanced DIY skills or a trip to the salon are typical requirements (we're looking at you, glazed donut nails and neon French tips). But jelly nails — the trend that has been seen on celebrities like Selena Gomez and Megan Fox, and continues to climb on social media with more than 300 million views on TikTok alone — are surprisingly easy to recreate on your own. Sure, you can whip up your own jelly polish by mixing a few drops of your favorite bright color in with a top coat. Or, you can pick up a bottle of butter LONDON's Jelly Preserve Strengthening Treatment — a sheer polish that works to improve the health of your nails, while leaving behind a subtle tint of color with a jelly-like effect. Each of the four shades features its own key ingredient for strengthening, as well as butter LONDON's nail care complex (more on that, below), which includes moisturizing and brightening ingredients like bamboo extract and diamond powder.
Ahead, you'll find a detailed look at the ingredients behind the Jelly Preserve Strengthening Treatment, and learn how you can nail the trend in just two steps.
The Jelly Preserve Strengthening Treatment currently comes in four fruit-inspired colors. 'Strawberry Rhubarb' is a pinkish-red hue most similar to Selena Gomez's jelly mani, 'Orange Marmalade' is a sunny citrus shade, 'Victoria Plum' creates a berry finish, and 'Bramley Apple' is a more adventurous teal green.
What Ingredients Does The Jelly Treatment Include?
All four of the Jelly Preserve Strengthening Treatment colors use butter London's encapsulated nail care complex (comprising hydrolyzed vegetable proteins, tea tree oil, vitamin E, and the amino acid arginine) to help improve your nail health as you wear the polish. For further benefits, each shade features its own key ingredient: 'Strawberry Rhubarb' contains calcium, 'Orange Marmalade' contains argan oil, 'Victoria Plum' contains acai berry extract, and 'Bramley Apple' contains olive oil.
What Ingredients Does The Jelly Treatment Leave Out?
Perhaps more important than the ingredients included in butter LONDON's Jelly Preserve Strengthening Treatment are the ingredients that the brand leaves out. In addition to being a cruelty-free and vegan brand, when it comes to its nail products, butter LONDON is 10-free. This means that in addition to the three ingredients that have been deemed toxic in nail polish, butter LONDON's formulations are also free from seven other potentially harmful and allergenic ingredients. Specifically, the jelly treatment is free from formaldehyde, formaldehyde resin, dibutyl phthalate (DBP), toluene, camphor, ethyl tosylamide, xylene, TPHP, parabens, and gluten. Within that list, formaldehyde, DBP, and toluene are especially important to avoid, as formaldehyde is a known carcinogen, DPB is thought to be an endocrine disruptor, and toluene has been linked to liver and kidney damage.
How To Use The Jelly Treatment
Because butter London's Jelly Preserve acts as both a polish and a treatment, you can skip the base coat entirely and paint your color of choice directly onto clean, dry nails. One coat will give you a barely-there hint of color, while adding a second or even third coat will create a true jelly-like effect. You don't actually need a top coat with this, but if you want to help extend the wear of the polish and add a high-shine finish, the brand recommends a thin layer of its Hardwear Shine UV Topcoat.