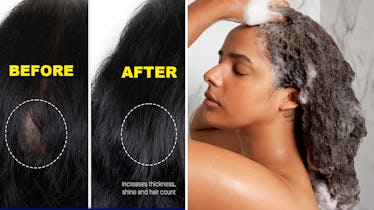 Celebs Swear By These Products For Combatting Hair Loss — & They Help Repair Damage, Too
The celeb-loved brand has expanded to hair care.
We may receive a portion of sales if you purchase a product through a link in this article.
Whether experiencing hair loss due to something as simple as seasonal shedding (which tends to happen in the summer, FYI) or because of something more complicated, hair loss has become an increasingly buzzy topic in the beauty industry. Perhaps spurred on by the subsequent reports of hair loss following Covid-19, Google searches for hair loss reportedly reached more than 800,000 per month by early 2021. And recently, celebs have been turning to products from Augustinus Bader for helping to restore their hair to its healthiest, fullest state.
The luxury brand has long been a celebrity favorite for its science-backed skin care products that are loved by Hailey Bieber, Victoria Beckham, and Meghan Markle, to name but a few. But in more recent years, Augustinus Bader has applied their patented TFC8 technology to line of hair care products that includes a shampoo, conditioner, and leave-in treatments — all of which encourage stronger, fuller hair.
A visit to your dermatologist is key to getting at the root cause (no pun intended) of hair loss. But if you're looking to improve the health of your hair at home and potentially stimulate new growth, you can find all of the details on the scientific research that has gone into Augustinus Bader's products, ahead.
What Is TFC8?
The main factor that sets Augustinus Bader apart from other skin and hair care brands is that the products represent more than 30 years of research by biomedical scientist and physician (and brand founder) Professor Augustinus Bader. Focusing on regenerative medicine throughout his career, Professor Bader developed his patented Trigger Factor Complex technology (TFC8) for his namesake line, which contains over 40 ingredients that work at the cellular level to support skin renewal.
First applied to the brand's skin care line, TFC8 is also behind each hair care product, where it uses its blend of amino acids, vitamins, and synthesized molecules to improve hair health from the follicle and scalp. The shampoo and conditioner formulas that celebs love so much also include botanical ingredients that work to restore moisture and support keratin production, while the leave-in treatment is packed with antioxidants that shield hair against heat, pollution, and UV damage (all of which can contribute to hair loss).
The Brand's Top-Selling Hair Products To Try
Want to give these next-level hair products a try? Here's where to start:
The Shampoo
The first step in Stone's routine, The Shampoo is a lightweight formula designed to cleanse all hair types without drying out your hair and scalp. Despite its foamy lather, you won't find any harsh sulfates in the shampoo, which instead uses gentle cleansers and a mix of moisturizing ingredients like panthenol, hydrolyzed vegetable protein, and hydrolyzed rice protein. Powered by TFC8 (as are all of the products listed ahead), the shampoo is able to target cells in the hair follicles to support healthy hair where it begins. Watercress and Indian cress extracts are the shampoo's other star ingredients, which, according to the brand, have been included to help support keratin production and strengthen hair from the root.
The Conditioner
Once you've thoroughly rinsed out your shampoo, follow up with The Conditioner, which uses a combination of rich hydrators like panthenol, coconut oil, and oat kernel oil to support hair elasticity and lock in moisture. The multi-tasking formula can be used as a typical conditioner that you rinse right out, focusing on the mid lengths to ends, or as a more hydrating mask that you apply all over your head and let sit for 10 minutes.
The Leave-In Hair Treatment
While the shampoo and conditioner can be used daily if needed, the brand's Leave-In Hair Treatment was designed to be used just two to three times each week to provide hair with more moisture, add a glossy finish, and keep it protected against heat and environmental damage. Antioxidant-rich ingredients like tara fruit extract and sunflower seed oil shield your hair from the damaging effects of hot styling tools like curling wands and straighteners, as well as the discoloration and dryness that can come from daily exposure to sun and pollution. The versatile leave-in can be applied on dry or damp hair before going about your typical styling routine.
The Revolutionary Haircare Trio
If you already know you want to add all three of Stone's recommendations to your hair care routine, you can save $6 with The Revolutionary Haircare Trio. The boxed set includes full-size versions of the shampoo, conditioner, and leave-in treatment for a complete hair-wash day routine. (FYI, if you sign up for the Augustinus Bader Club, you can save more money by accruing loyalty points as well as receiving priority access to new products and a birthday gift.)
The Scalp Treatment
This may not be one of the products that Stone used on her hair growth journey, but The Scalp Treatment was created with hair regrowth in mind. Ingredients like arginine, niacinamide, watercress, and Indian cress extracts work with Augustinus Bader's TFC8 technology to balance and soothe the scalp, reduce hair shedding, and plump up existing hair strands. The multi-tasking product should be massaged into the scalp working in sections on hair that's been freshly washed and is still damp. Or, you can solely apply it to areas about which you're particularly concerned.