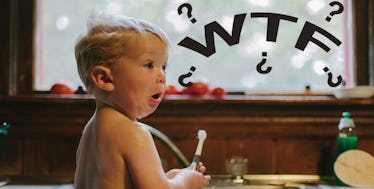 WTF Item Of The Week: This Vibrator Smells Like Chocolate For Some Reason
As a writer, I get sent enough pitches about weird sh*t to leave my inbox in a never-ending state of overflow. From sexy Cecil the Lion costumes to Kegel exercise trackers (why?) it takes a lot to surprise me.
Naturally, when I read about a new vibrator dubbed the Lily 2 (released by one of my personal favorite brands, Lelo), I was all ears.
For the record, I have the Gigi 2 and it's some next-level sh*t. So when I read how this new vibe was made to smell like chocolate, I wasn't sure if I was turned on or downright disgusted. In short, my reaction could be accurately summed up with the below GIF:
The Lily 2 comes in three fragrance options: manuka honey and lavender, rose and wisteria and bordeaux and chocolate. Because, obviously, it's not a fun night in until I shove a vibrator up my nose.
Here it is, sitting alongside plums and wine corks:
My question is why the actual f*ck is this vibrator infused with scents, of all things? I'd be more interested if it was actual chocolate so I could eat it (scientists, quit curing stuff so you can get on this ASAP) or if the vibrator actually provided you with chocolate after each orgasm.
In fact, I think the next rational step would be for this guy to grow arms, legs and opposable thumbs so it can pick up wine for me after each time.
Maybe I don't get it, though. Maybe I haven't really had awesome self-stimulated sex until I catch a whiff of wine and chocolate. My masturbation game might not be as on fleek as I thought.
Also, does this leave a chocolate smell in your vag after use? Because if it does, that's kind of awesome and f*cking gross at the same time. I mean, I'm sure I'm not the only one who gets hungry during a session or two with my vibe. However, if I lick this thing and it doesn't taste like Godiva, I'm going to be very disappointed.