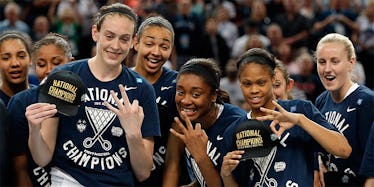 5 Ways You Can Start Getting Excited About Women's March Madness
Getty Images
Kym Hampton and Lisa Leslie were the first female basketball players I ever loved. Though I wasn't heavily invested during their college days, every time I watched them play in the pros was electrifying.
Throughout the years, I've often wondered why women in basketball aren't celebrated as much as their male counterparts. During March Madness, we all scramble to fill out the men's bracket, but what about the ladies? Women are slaying at the college level and it's criminal they don't get the same fanfare the boys receive every year.
This could contribute to the reason WNBA players receive an average $72 thousand a year, while NBA players collect seven figure deals, according to CNN.
For a casual sports fan, I get it. You're just not that into basketball and, when you are, you're probably wondering how many threes Steph Curry drained in one quarter. But, there are ways to get excited about the games and, most importantly, the women who play them.
It's too late to create a work pool, but it's not too late to get hyped about women going hard in the paint.
1. Learn all you can about the game.
The women's 64-team NCAA tourney differs significantly from the men's championship, which includes 68 teams.
While the boys face off around the country, playing in major arenas like the Brooklyn Nets' Barclays Center and the Denver Nuggets' Pepsi Center, women face off on college campuses for the first two rounds of the tournament. Also, as women's teams advance, they are divided by regions. For example, SB Nation explains UConn can advance all the way to the Final Four without ever leaving Connecticut.
Once you're invested in how the women's tourney is run, you'll more likely enjoy the actual game.
2. Pick a team to root for.
You have no clue who to root for if you've been oblivious to women's college basketball all season. You might overhear your boyfriend or best friend chit-chat about Ohio State, but you probably don't know its current standings (for the record, the team faces the Tennessee Lady Vols on March 25).
Dig through the NCAA stats and pick which all-girl squad you want to win. Most people will want to roll with the projected winners. In that case, pray the UConn Huskies win for the fourth time in a row.
As a general rule of sports fandom, however, never sleep on the underdog.
3. Pick a star player you love and cheer her on.
I've been known to follow players, not entire teams.
For instance, I love Steph Curry. Whether he plays for the Golden State Warriors or anyone else, I'll forever be a fan.
If you're a rookie to the sport, choose a standout femme in the tourney who's making waves on your sports news feed, such as Notre Dame junior guard Lindsay Allen. Zero in on her game and follow all her power moves, both on and off the court.
Study a key player to get more emotionally invested in the game. Before you know it, you'll be shouting back at the screen like your boyfriend always does.
4. Buy a bunch of merchandise.
Sadly, I own a bunch of sports gear with male ballplayers' names and barely any women-centric items.
To get in the spirit of women's NCAA, I find going on a shopping spree to update my sports paraphernalia does the trick. I'm talking full-on bandwagon mode.
Buy team jerseys, socks and hats to rep your new team and rock the gear on game days. Or, feel free to wear UConn star Kia Nurse's jersey to work the day after she takes home another win.
5. Learn how to talk sh*t.
Sports are no fun without sh*t-talking. My slick mouth has not only won me a bunch of bets, but it's also made the games more enjoyable. Bigging up my team and slandering my bestie's on-court squad only adds fuel to my excitement.
Create a bunch of memes and get your gif game ready to join the Internet slander. By the end of the tourney, you'll never go back to just being a casual NCAA fan.
Women in any sport are badass and shouldn't be dismissed as less exciting than the boys. We're all ladies here, so we should support the advancement and celebration of women in male-dominated spaces, even if it's just for entertainment.