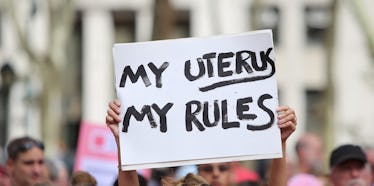 5 State Laws That Prove Women Still Face An Uphill Battle For Equality
Shutterstock
It's no surprise that women still deal with a multitude of restrictions and roadblocks when it comes to fighting sexism.
Women handle the unfortunate catcalls, slut-shaming and inequality at the workplace on a daily basis.
But what about the gut-wrenching issues we fear, like rape?
Below is a compiled list of state laws that need to be updated:
(Please note that some of these stories may be difficult to read.)
1. Wisconsin
Wisconsin women have it rough.
In April 2012, Wisconsin Governor Scott Walker signed a law banning abortion coverage in private insurance plans.
This means "women will not be able to choose a policy that contains abortion coverage, and private policies with existing coverage will have to drop it."
Gov. Walker has also signed into law an abortion ban that leaves no room for exemptions on cases featuring rape or incest.
Another measure even "threatens doctors with felony charges if they provide abortion care to women."
Oh, and just for the hell of it, he repealed the state's pay equity law (2011 Act 219), which protected women from being paid less than their male counterparts.
If you're going to take away Wisconsin women's reproductive rights, you may as well pay them less to work, right?
2. North Carolina
This state has an irreversible consent law, which renders it impossible for a woman to revoke sexual consent once she's given it.
In 2010, a young woman filed a report claiming her boyfriend sexually assaulted her.
The victim explained that she consented to having sexual relations at first, but after the victim asked the perpetrator to stop, he continued to assault her via rough, unwanted vaginal intercourse.
Her boyfriend was initially charged with sexual battery and rape.
However, once prosecutors found out that the victim originally consented, the charges were dropped.
3. California
This state has a "rape by deception" law, which protects victims of rape if the perpetrator impersonates the victim's husband in order to have sex.
Sounds like a good law to have, right?
Well, a case in 2009 proved otherwise.
A young woman woke up to someone initiating sexual contact on top of her — a man she assumed was her boyfriend — and willingly allowed it to continue.
Once the victim saw the man's face and realized he was not her boyfriend, she called the police and pressed charges.
The perpetrator was apprehended and later convicted, but these convictions were overturned.
Why?
Because the victim believed it was her boyfriend initiating sexual contact.
That's right: Only if the perpetrator impersonates a victim's husband, he goes behind bars.
But if the perpetrator impersonates a victim's boyfriend and is convicted under this "rape by deception" defense, he hasn't broken any laws.
I'm sure if you ask those victims who were raped in deception, they will tell you they were scarred just the same.
4. Massachusetts
Okay, to be fair to the entire state of Massachusetts, this ruling came from the city of Boston.
The city's high court ruled that a man who took up-skirt photos of women on the subway was within his legal right to do so because the women were not nude.
The court ruled that "Peeping Tom" laws do not extend to the MBTA.
The ruling read,
A female passenger on an MBTA trolley who is wearing a skirt, dress or the like is not a person who is 'partially nude,' no matter what is or is not underneath the skirt by way of underwear or other clothing.
This observation clearly justifies a creep's desire to take unapproved photos, correct?
5. Michigan
In 2014, Michigan lawmakers put into effect the rape insurance policy.
Basically, private health insurance plans can no longer cover abortion services — unless you thought in advance to buy separate coverage riders — even if the abortion is wanted due to rape.
That's right, ladies.
You'd better think ahead and get yourself covered for this service because you never know when you might be sexually assaulted.
Unfortunately, victims always pay the price for these horrific crimes, and in some cases, they pay for them before they even happen.